"C.J." -- Man in the Middle

By JOE HAMELIN (former San Diego Union sports reporter)

(written in October 1975)
He was 37 to begin with, and the roll across his belly was just a little too small to be his money belt. The morning was warm, the summer had been long and his wind was short. Five minutes into the basketball season, Wilt Chamberlain (right) began dissolving into his sweat bands.
The man was still an awesome sight, though -- 7-feet-1 and then some, approaching 300 pounds, nostrils flaring, chest heaving, grinning a grin that had some evil in it. It was the first day of drills for the newly-named coach of the Conquistadors, and there he was, Godzilla in sweat pants and Converse All-Stars, having a grand old time.
His ballplayers stood in a row until summoned, one by one, to dribble down the lane to their doom, to where Chamberlain was waiting like a Mayan god demanding sacrifice. With little apparent effort he rejected their pitifully human layups, fly-swatting them to various distant parts of the USD gym. Contempt was etched into his face. Whap! Whap! Wilt was letting them know who was boss.
And then came CaIdwell Jones.
The rest had tried to go around Chamberlain. Jones, 6-11, built like a fence post and full of flight, chose to go over him!
Launching himself into the air like some enormous bony bird, Jones went up over Chamberlain till his waist was even with the big fellow's unbelieving eyes. Then he brought the ball down with all the youthful exuberance in him, slamming it through the cords so hard it struck Chamberlain solidly on the shoulder and bounded 10 feet in the air. From the look on Wilt's face, you'd have thought he'd been shot.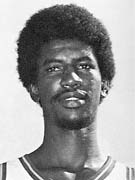 That memory lingers, two years later, because it said so much of Caldwell Jones, the ability God had given him, and what was to come of it - 15 points and 13.9 rebounds per game his rookie season; 19.6 points and 14.1 rebounds last year.
Other moments come to mind. The night in Kentucky, when he scored 39 points off Artis Gilmore . . . the night in San Antonio, when he savaged Swen Nater to pull down 24 rebounds ... the night against visiting Denver, when he blocked 11 shots.
All of which led to that afternoon in Philadelphia, last February 25, when he signed a multi-million dollar contract to play ball there one day. The action caused his coach and his clubowner to weep, and the American Basketball Association to file suit.
There's a new coach now, and a new clubowner, both in awe of this Arkansas lad's talents, and both determined that C.J. shall make his fortune with the San Diego Sails. "We feel he'll be around for a long, long time," owner Frank Goldberg says confidently.
Jones has this season remaining on his San Diego contract, and then another year under the option clause. By that time, Goldberg believes, the Philadelphia contract Jones signed for 1977 will be ruled null and void.
"During the term of this agreement," Jones' contract reads, "player shall not enter into any agreement nor make any commitment for his services as a professional basketball player with any person, firm or corporation other than the club."
This is the point the ABA is stressing in its suit.
Jones is insulated to such mind-bending difficulties after two troubled seasons. "I don't think about it much at all," he says. "I let my agent worry about that stuff. My job is to play basketball. I just try to concentrate on that."
What Jones has done is doubly impressive when you consider the circumstances under which he's done it.
He played college ball at Albany (Ga.) State, coached by his older brother. It's hardly the same as playing at UCLA under Johnny Wooden. The competition isn't the same. Chamberlain said he felt Jones' potential greater than Bill Walton's, Walton being so much better prepared.
Drafted by the 76ers originally, Jones came to San Diego after rejecting the 76ers' meager offer - an offer they later conceded was "a mistake." He could have learned much here from Chamberlain but, to Jones' misfortune, Wilt quickly mastered the astonishing feat of making himself invisible at practice.
Under Alex Groza and Beryl Shipley last year, he made more progress. But the franchise was in financial difficulty, attendance was poor, and his agent was negotiating that 76er contract. Distractions were everywhere.
This time, Jones could be ready to take his place with the greats of the game, as his demolition of Walton in a preseason game would suggest. He outscored Walton in that one 27-6, pressured him into missing 9 of 11 shots, and outrebounded him 16-11.
"He thinks he's good now," Bill Musselman smiles with a shake of his head. "Heck, he doesn't know yet just how good he can be."