San Antonio's Lone Star Game
By DAVID KING, San Antonio Express-News
(article first published in 1996 in the San Antonio Express-News, reprinted with permission)
Before this week, the ABA provided San Antonio's . . . Lone Star Game.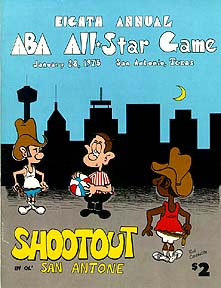 San Antonio's first brush with all-star fame started on a kitchen table in Blossom Park in 1974.
Once or twice a month, Spurs executive vice president Angelo Drossos would meet with the four people with any power in the team's front office: trainer/equipment manager/business manager Bernie LaReau, who owned the kitchen table and the condo; broadcaster and broadcast sales manager Terry Stembridge; sales manager John Begzos; and public-relations man Wayne Witt.
Soon after Witt started with the team in the spring of 1974, Drossos handed him an extra job.
"We're meeting there with Angelo, and he says we have the all-star game next January," Witt said. "Angelo looks at me and says, 'Wayne, you're the general chairman of the ABA all-star game.'
'I said, 'Angelo, I've never even seen an ABA all-star game.' "
Not many people with the team had. At that point, the Spurs had played one season in San Antonio, before some less-than-packed houses at the Arena. The franchise was part of the American Basketball Association, the wing-and-a-prayer league that would try just about anything to attract fans.
The ABA had one thing going for it, though.
"There was a feeling of family in the league," said Witt, who now is public-relations director for the Miami Heat. "It was us against everybody else."
And if family was coming to town, the Spurs were going to put on their best duds and put on a show like nobody had ever seen.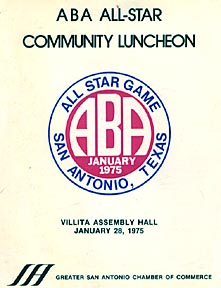 They lined up Joe Namath to speak at the pregame luncheon. They got Willie Nelson to entertain at the pregame gala and sing the national anthem. They got the Chamber of Commerce involved. They lined up river boat trips for players, wives, team officials, VIPs. They got local merchants to donate hundreds of dollars' worth of local-flavor items (from bowling balls to corn chips) to give away as gifts. They even got a quarter horse named Tuff Julie to present to the game's most valuable player.
And if the local flavor wasn't enough, there always was the league and its personalities.
The all-star coaches were Larry Brown of the Denver Nuggets and Kevin Loughery of the New York Nets. They were among the youngest coaches in pro basketball; they wore loud clothes and had long hair; they had been scrappy, aggressive players and were the same as coaches.
"(Brown and Loughery) got together and bet a bottle of scotch on the game," said Maury Holden, longtime treasurer for the Spurs. "Larry Brown got up at the luncheon on the day of the game and said that as a good Jewish boy, he wasn't about to buy Kevin a bottle of scotch."
Not everything worked out according to plan that week in January. Namath, whose appearance set off a frenzy of female fans (The News carried a first-person, front-page story about chasing Namath, headlined, "BROADWAY JOE: NICE, POLITE, SEXY"), was a dud as a speaker, despite a $10,000 fee.
"As I recall, it was a lousy speech," said Stembridge, now in the oil exploration business in Kilgore. "Short, and not particularly good. Everybody decided he had been overpaid."
Nelson, on the other hand, was a hit, even if he was a mystery to folks from outside the region.
"Seventy-five percent of the people who were at the game didn't have any idea who Willie Nelson was, or who he was going to become," Witt said. "Of course, we all knew who he was, but I would have people come up to me and ask, 'Who is this fellow again?' "
As was his habit in those days, Nelson played until almost dawn at the pregame gala. He then turned around the next night and sang the national anthem, a capella, before the game.
"We were holding our breath about that, let me tell you," said Witt, who noted that Nelson didn't appear at the Arena until shortly before he was to sing. "But he never missed a note."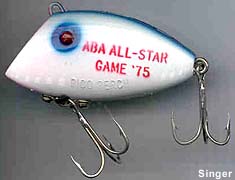 And then there were the gifts. The guests' beds at the Hilton Palacio Del Rio were loaded down.
"Our goal was to give the people so many gifts that they would have a hard time getting them home," Witt said. "It was the first time anybody had done anything like that. We had picante sauce and chips, fish lures, Finck cigars, fruit baskets. Just on and on."
They also included a big suitcase, to help with the trip home. The Spurs' George Gervin, who started the Jan. 28, 1975, game for the West in front of 10,449 adoring fans, still has his.
"It was exciting, especially for a young kid of 19 or 20, like I was," he said. "I was just getting introduced to San Antonio the year before. It was exciting to play in an all-star game."
And then there was the horse.
Freddie Lewis, an ABA veteran who had bounced from Indiana to Memphis to St. Louis, scored 26 points to claim Tuff Julie. Lewis, who wore a cowboy hat perched atop his six-inch-high Afro haircut while accepting the MVP award, actually owned horses near his Phoenix home. But he eventually took the auction price of $1,950 rather than try to ship the horse -and the donated gear, including a hand-sewn saddle - to Arizona.
"That was probably the best all-star game they ever had in the ABA ," said Stembridge, who broadcast the first ABA game ever played and stayed with the Spurs when they joined the NBA in 1976. "It might be one of the best in the history of either league."
The final score was almost an afterthought: East 151, West 124.