True Mavericks: Houston's ABA franchise gave city first taste of pro basketball

By MICHAEL MURPHY, Houston Chronicle
sptmjm@chron.com
Even some longtime Houstonians may have a hard time believing that the history of professional basketball in Houston did not begin in 1971 when the Rockets moved here from San Diego.
Believe it.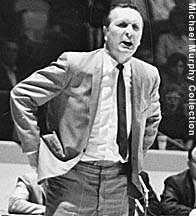 Long before the Rockets started hanging championship banners from the rafters of The Summit, there was another pro basketball team that made Space City its home. Indeed, among the 11 charter franchises awarded by the American Basketball Association in 1967 was the long-gone, very much forgotten Houston Mavericks.
Not that they gave Houstonians much reason to remember them. Coached by former Davis High School, University of Texas and NBA great Slater Martin (at left), the Mavericks finished a rather undistinguished 29-49 that first year.
But that record is rather remarkable considering the inauspicious beginning for the team.
"I went out to Oakland, where the first draft was held that year (1967)," Martin said. "I got on the plane and got out there, but I thought that they (the Mavericks owners) had already sent our money in. You had to put up $30,000 bond to get in the draft. I thought they had sent it out there, but they didn't, so they wouldn't let me in the meeting.
"I had to call Houston, open up a bank and do some quick work. By the time I got back, they were in the fifth round. Since we were so late getting started, anybody that was anybody was already gone. We had to go get guys from the Eastern League."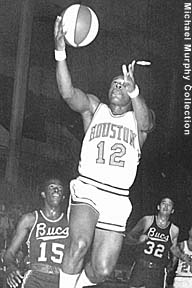 Which left Martin, who also served as the Mavericks' general manager, in some dire straits talent-wise.
"We had to get some players, so I went over to Prairie View (and got 6-6 Guy Manning), then we got a kid from (Grambling, 6-7 Wilbert Frazier) and then we picked up Willie Somerset (#12, at right) from the Eastern League," Martin said. "We got Joe and Leary Lentz from the University of Houston. We just put together a team, but we got in the playoffs that first year. It was all seat of the pants."
Which pretty much summed up that first year for most every team in the ABA. The Mavericks actually made the playoffs that year but were swept in three games by the Dallas Chaparrals in the first round. Somerset, a 5-10 guard, led the Mavs with a 21.7-point average, while Art Becker, a 6-8 forward, was the leading rebounder at 9.4 per game.
Despite prices that ranged from $1.50 to a whopping $3.50, the Mavericks completely underwhelmed the ticket-buying public, usually drawing around 300 in the 8,925-seat Sam Houston Coliseum. Because of the poor turnout, league commissioner George Mikan, who teamed with Martin on five NBA championship teams in Minneapolis in the early 1950s, decided to restock the Mavericks roster with players he thought would make the team a bit more competitive.
"I knew it wasn't going to last the (second) year," Martin said. "Mikan sent me players I didn't want and didn't need, but he was going to change my whole team up. I told him to send a coach along with them. I told him that was it for me. I don't want anyone running my team but me.
"He thought he could help us draw fans in Houston with these new players. At that time, I didn't think they could play or I would have taken them. But I told him he should come over and take over the team. Some of the owners were pulling out, and I pulled out with them. The league took over the team."
The final straw came in the wake of the 1968 player draft, when University of Houston greats Elvin Hayes and Don Chaney opted for San Diego and Boston, respectively, of the NBA. Houston owner T.C. Morrow decided then to bail out.
"We got a call from T.C. Morrow," said Dick Tinkham, legal counsel for the Indiana Pacers and chairman of the ABA merger committee. "Morrow, one of our wealthiest owners, said he was on his way to his duck blind and that he was quitting. He was only in for about a year. When he wasn't able to sign Hayes, he decided after the (second) season started that he was giving up."
Tinkham convinced Jim Gardner, the former lieutenant governor of North Carolina, to buy the Houston franchise, putting up $50,000 so the Mavericks could finish out the season in Houston. The franchise was relocated to North Carolina the next season and renamed the Cougars, paving the way for the San Diego Rockets -- and Hayes -- to fill the pro basketball void in Houston.
"It was a good opportunity, but we couldn't take advantage of it," Martin said. "All the owners got cross-wise. By the way, the guy who designed the Rockets uniforms used to work with us -- Carl Storey. His wife worked for me as my secretary, and he did a lot of publicity work for me.
"I had Carol Martin, who used to be the general manager of the Oilers, working for us, so we had a good staff. They really tried that first year, but it just didn't work out."