By JIM O'BRIEN
jpobrien@stargate.net
(article first published in 1972 in the book "ABA All-Stars")
Wendell Ladner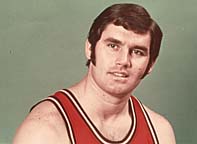 Wendell Ladner was the leading surprise in the ABA during the 1970-71 season.
Not nearly as talented as Charlie Scott or Dan Issel, and certainly not as well known, he nevertheless made his mark as one of the most promising newcomers on the scene.
He was one of the reasons the Memphis Pros were one of the most competitive clubs in the ABA. Ladner never quit trying to beat you, and, as a result, Memphis whipped Indiana four times, Utah five times, and finished a strong third in the Western Division.
He averaged 16.9 points and 11.5 rebounds, not bad for a 6-5, 220-pound forward, and was one of three first-year players to perform in the league's mid-season all-star game. Issel and Scott, of course, were on the East team, and Ladner was the only rookie on the West squad. Of the three, he was the only one surprised by his selection.
That's the charm of Wendell Ladner. He's delighted by all that's happened to him since he left Southern Mississippi, and his hometown of Necaise Crossing, Miss. "I'm just a country boy," he says, "an old farm boy," in the way of explanation for his gee-whiz wonderment about everything.
He's a down-home kind of kid, a hard competitor all the way, the kind Coach Babe McCarthy can enjoy best. They talk the same language.
Ladner is also the most serious challenger to John Brisker of Pittsburgh as the ABA's heavyweight champion. "I'd like to see that one," McCarthy cooed after a brief flare-up between the two. "Ladner's had four fights and there's not a mark on him."
Early in the 1971-72 season, playing against the Nets in New York, Ladner was ejected from the game during an overtime period for what an official termed "a malicious foul" on Rick Barry.
Ladner said it was necessary for him to play Barry aggressively, but insisted he didn't mean to hurt him. "I sure wouldn't want to break his leg and put him up in bed with his family," said the good old Mississippi boy.
He said it wasn't a dirty play, and even stopped by the Net dressing room to explain it to Barry. "I know one thing," said Barry. "If you were trying to hurt me, you would have done a better job of it."
He was once quite a football prospect -- the Dallas Cowboys (who else?) invited him to try out. Ladner lost 25 pounds on a grapefruit diet before reporting to the Pros' camp for his first season. He thought he'd have to go back home and lift weights and put it all back on again, figuring he'd give pro football a fling if he couldn't make it as a basketball player.
This is no cocky kid, just a competitor of the first rank. In one of his first games with the Pros, Memphis lost the tip, but Ladner charged by Larry Cannon of the Rockets and took the ball with him to the goal. He missed the layup, but recovered to tip the rebound to teammate Steve Jones, who misfired from five feet. Still working, Ladner grabbed the rebound, but before he would launch another shot, forward Byron Beck bumped him and Ladner had one free throw for his 13-second effort.
"Anybody who plays like that can have a spot on my team," said McCarthy. "Wendell might make two of the worst plays you've ever seen, but he'll come back with a dozen great ones because he never quits hustling. It's a pleasure to have somebody like him."
Memphis had lost two forwards from the previous year's team as veteran Jackie Moreland retired and Ron Franz was traded to The Floridians, and there was pressure on Ladner to succeed. He was the Pros' second selection on the draft, and they didn't sign their No.1 choice -- Rusty Clark of North Carolina.
Against the New York Nets in December, 1971, he hit four three-pointers in as many tries to demonstrate how well he has learned to shoot from outside.
"You're darn right I was worried," said McCarthy. "But I knew a lot about Ladner. I saw him when he played in high school at North Hancock Central (Miss.) and he was a tremendous prospect. He had some impressive statistics at Southern Mississippi, but he always weighed about 245 pounds and stayed in close to the basket. Well, he sure wasn't tall enough to play in the middle in the pros, but every now and then he moved outside and could shoot it."
He established three-year scoring and rebounding records at Southern Mississippi. His point marks read 21.4, 22.4 and 17.9, while his rebounding totals were 16.3, 16.4 and 16.8.
"I never watched my weight in college," he recalls. "I just ate all the time. I never trained like I should have. This is a lot different from college. It's a lot rougher. In college I had to go against guys my size, but now most of the people I play against are a lot bigger."
Ladner almost decided to chuck basketball in favor of football in college. After playing end his senior year in high school and scoring six touchdowns in one game and running for three in his only appearance as fullback, he was hotly recruited by the Ole Miss Rebels. "I thought about it," he says, "but I decided later I wanted to play basketball."
He changed his mind after his team, North Hancock, won Mississippi's Class A state championship with a 40-3 record and he averaged 37 points and was named to the All-America squad. He picked nearby Southern Mississippi and disappointed 83 other schools who had lined up in Necaise Crossing -- his home town -- with offers.
Ladner likes to talk about his town, which he says had about 600 people living in it. The nearest big town was Gulfport, about 32 miles away. "None of my friends had driver's licenses, so without transportation, we couldn't go to town very often.
"I'd never been around a town a lot. Necaise Crossing, to me, was a lot of fun. I grew up there, and might've played basketball from the time I was 9 'til I was 17 and went away to college.
"We'd shoot basketball all day and into the night. We didn't have any lights, so we'd go out into the woods with axes and cut us some logs. It was no big thing.
"We'd cut up oak trees that had fallen. We'd chop them up good, and use the splinters to start the fire. We'd have one big fire and it'd light the area so we could play.
"The only other thing you did was milk cows and ride horses. We raised hogs, too. My family had a dairy barn. We had no heat in the house, except for the big fireplace, and no bathroom. We'd get a wagonload of wood and pile it by our house.
"We were over at our grandmother's house killing hogs one day, when our house burned down. Some ashes hadn't gone out, my sister said, and they started a fire again and it caught on some drapes and the whole place went up in smoke."
That's how he got started. Now Ladner would like to improve his play, and help the Pros to build a winner in Memphis. "I think I'll be a lot better," he said at the start of his second season in the ABA. "I'm still making too many fouls and lots of mistakes, but I know when to take a shot now.
"You know, I really was surprised I had a rookie season like I did. I just wanted to make the team. I didn't think I'd make it. But in the first exhibition game I scored 17 points and grabbed 15 rebounds, and it surprised me that I could do something like that.
"The biggest surprise, of course," he continued, "was making the All-Star team. It was an honor to make it... the only rookie on the West team. That was a big thrill."
Brute strength and a desire to excel are among his most recognizable traits. He has good basketball instincts and is unusually quick for a man his size. "I like the way he rebounds and gets the ball out in a hurry," said Babe McCarthy. "He could be a big asset in a fast-break attack."
"I'm not going to live on my first-year reputation," Ladner told us. "I have to prove it this year again and get back into that All-Star game."
This article Copyright © Jim O'Brien and used with permission

Back to Main Page