By DAN PATTISON

"Plain" Old Bill -- A Tribute to the Former Owner of the Utah Stars (March 9, 2000)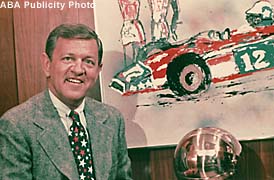 (SALT LAKE CITY) Bill Daniels wouldn't make himself out to be a saint. That's even if he were looking down and fashioning his own obituary.
But people who have worked for him, his friends, and acquaintances would put him into sainthood. They would Knight him, crowning him with the highest regards.
The 79-year-old Daniels, who passed away March 7, 2000, in Rancho Mirage, CA, wouldn't want it that way.
"I'm just plain old Bill and I want you to remember that," he would say.
Daniels isn't an easy person to forget. And I never will. He was a kind, and gentle man, with such a huge heart that it stretched from coast-to-coast across this great country. And his heart is one of the major reasons that he didn't attend a November 11, 1999 gala in Salt Lake City -- the induction of the charter class of The State Of Utah Basketball Hall Of Fame. Bill had a stroke last December (1998).
But, if this Hall of Fame has the success I think it will have, it will be due to the help of Daniels. If you get the picture. That's something these Utah Hall Of Famers should remember.
Smallish in heighth. Not stature. Two men, Daniels and my father, James, have had the greatest impact on my life. My dad was only 5-foot-6, and Daniels was hardly any taller. At 6-foot-3, 200-pounds, I am a bullheaded Irishman. But I'm still no match for either.
Neither were egotistical. But both would scold me. Not for my journalistic views. But for some of life's growing pains or wrong doings. Lord only knows that I haven't been a saint. And I don't pretend to be one. And each would put a hand around my shoulder when I needed it. I dearly miss that...
Dad passed away in 1979, and I haven't seen Bill since 1979. But we kept close through what Alexander Graham Bell created -- the telephone. And we still wrote each other. One would be surprised about how much Bill liked to hear news from Salt Lake City.
Actually, Bill would send complimentary notes to me about the columns I wrote concerning his beloved Utah Stars in the Deseret News, Basketball Weekly, and The Sporting News. His notes meant more than I could say.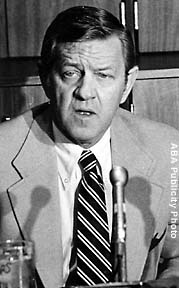 Once again, Daniels is not easy to forget. A "natty" dresser, not a strand of his silver-gray hair out of place, attired in a white shirt, striped tie, blue double-breasted sports coat, and beige pants, he looked the essence of old-school corporate conservatism. The essence of class. Bill would always say, "You're always selling yourself. And you'll never get a second chance to make a first impression.
"That way," Bill used to say, "people will always remember you."
The Bill Daniels story is one of vision, entrepreneurship and humanitarianism. His contributions to the cable business are legendary. His cable communications empire has been likened to those of John D. Rockefeller and J. Pierpont Morgan. After all, Daniels served as the earliest leader of the fledgling cable trade association, founded the first cable brokerage company and launched the first cable investment banking business. He owned and operated hundreds of cable television systems, created dozens of innovative sports programming companies, and cultivated a new generation of industrial leaders.
For example, in 1994, Daniels sold his Prime Ticket Cable Sports Network (which showed sports teams and events to 4.5 million people in the Southern California, Nevada, Arizona, and Hawaii markets) for $233 million. Yes, Daniels is listed among The Forbes Magazine 400 Wealthiest Americans. And before he sold Prime Ticket, The Sporting News listed him among the top 100 most powerful people in sports.
Bill, who still owns part of the Los Angeles Lakers, figured his greatest accomplishment and biggest thrill of his life came 28 years ago (May 18, 1971), when his Utah Stars captured the American Basketball Association Championship.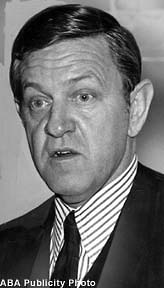 "Absolutely! It was the biggest thrill of my life," said Daniels. "No question about it. Vince Boryla did an excellent job of assembling the team. I loved those guys. I still love the Utah people. They were always great to me and our team.
"They really supported my club from day one. We set all-time ABA attendance records, and won the league championship in our first year. We had the best arena (The Salt Palace) in the league, and for that matter, in the NBA at that time.
"Still," Daniels added, "I lost $500.000. I said to myself, 'I've got a problem.'
"Vince had done a helluva job selling our product. I always thought that Utah people were very knowledgeable about the sport. Our situation in Salt Lake City, and our relationship with Utah people, was like a Camelot affair. I loved it."
And it was my Camelot, too, Bill.
Appropriately, the State Of Utah Hall Of Fame has brought back the most integral part of Camelot -- Zelmo Beaty -- and inducted him into the charter class.
"That's great! That's a classy move for the Utah people to do that," said Daniels, while straining to holding back a cough in his throat. "Without 'Z' and Ann, there wouldn't have been a Camelot."
This is how he became one of the best owners in basketball. A genuine difference-maker in a profession with its share of self-promoting myths. Bill always had an outstanding temperament. He never wavered in his voice. He excelled at managing people. He surrounded himself with outstanding people and let them do their jobs. He was a tremendous human being. And his players always loved playing for him.
After all, Bill was King Arthur, a fearless, self-made man. His players knew it.
Note: DAN PATTISON was an ABA columnist for Basketball Weekly, The Sporting News, and The Deseret News. Dan was also the vice-president of the ABA Sports Writer's Association for two years.
Dan passed away in June 2001 after a brave battle with bone marrow cancer. He will always be remembered for his longtime support of his "magnificent obsession": the ABA.

Back to Main Page