By DAN PATTISON
Squires Welcome 'Dr. Erving' (article written in November 1971, just before Erving's 11th pro game)

Before the start of the season, Virginia Squires' coach Al Bianchi labeled his club the team to beat in the ABA's Eastern Division.
"We're the team to beat in the Eastern Division," Bianchi offered without mixing words. "I don't think there is any question about it. Now that doesn't sound like a college coach, does it?
"Well, I'm honest; I believe in this club. We've got some good talent."
Bianchi said this despite losing starting guard Mike Barrett with an injury for the season; Henry Logan, a guard who played two years ago, received word that he couldn't play again with knee injuries, and big Ray Scott is recuperating from a knee injury.
The Squires just recently activated veteran forward Doug Moe and picked up guard Bernie Williams, who was waived through the NBA from the Houston Rockets. Williams was a teammate of the Memphis Pros' Larry Cannon at LaSalle College.
Virginia has responded thus far to Bianchi's predictions. The Squires lead the Eastern Division with a 7-3 record.
Why was Bianchi (ABA Coach of the Year last season) doing all this boasting at the beginning of the season? The answer could be in 6-6, 200-pound rookie Julius Erving. Erving led Massachusetts to a 23-3 record last year, averaging 27 points and 20 rebounds per game.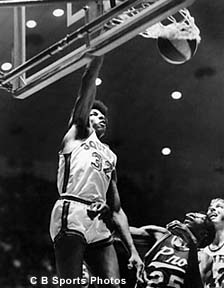 "Dr. Erving," as he is known to his teammates, was signed to a hardship contract after his junior year. He has every shot in the book and his leaping ability allows him to grab those rebounds.
In his rookie season in the ABA, "Dr. Erving" has been operating at a 23 points and 16.6 rebounding average.
"Erving can play," boasts Bianchi. "He's got hands like Connie Hawkins (NBA's Phoenix Suns). And he's been compared to Hawkins. But he's going to be better because he plays four quarters."
Julius was the reason the Squires were able to sell George Carter to Pittsburgh. The experience of veteran Neil Johnson at the other forward spot is helping Erving.
Another reason Bianchi was boasting was the play of Charlie Scott, the ABA's co-rookie of the year last season. "Charlie has taken charge," Bianchi continued. "His passing is better and his defense has improved. A year has done wonders for him.
"He works well with Erving. They're so damn fast! With that experience Charlie got from last year, he ought to have a helluva year."
"Great Scott" has proven Bianchi is right again. Scott is leading the ABA in scoring with a 37.6 average. Last year, the 6-6 guard swished 27.1 points per outing.
The Squires have two former Utah college players sharing the post. Former BYU star Jim "Jumbo" Eakins (6-11) is the returning starting center. His backup is former Weber State All-Big Sky performer Willie Sojourner.
Sojourner, a rookie who signed for a reported $440,000, has been coming on strong his last three outings. Against Kentucky's Artis Gilmore, the 7-2 rookie sensation, he tallied 25 points and grabbed 15 boards. Sunday night against Pittsburgh, the 6-8, 225-pounder sunk 17 points.
"Sojourner's not looking too bad," Bianchi added. He's had to make a few adjustments. Most centers in the pros are much bigger than Willie is. He's got potential. We're happy with Willie. It's just a question of experience. He's learned a lot since the exhibition season."
Bianchi starts Erving, Eakins and Johnson up front and Charlie Scott and Roland "Fatty" Taylor in the backcourt.
Bianchi picked up Adrian Smith from the Golden State Warriors and Williams to help shore up their problem at guard with the loss of Barrett and Logan. The 34-year old Smith is a valuable asset to the Squires.