By DAN PATTISON
Issel and the Nuggets (column written in November 1975)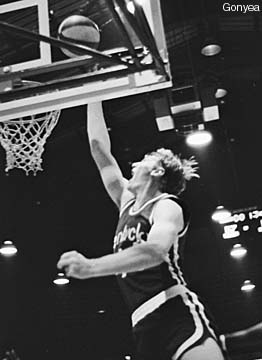 (DENVER)
Dan Issel and Kentucky.
They go together like Love and Marriage, the Horse and Carriage, bread and butter, salt and pepper, etc., but with Issel and Kentucky that isn't the case this season.
They often say in sports: put a new guy in his position and in three months time we'll have forgotten about our old favorite. But Dan Issel and Kentucky? Like I said, legends die hard.
Issel finds himself split from the ABA's Kentucky Colonels this season, because John Y. Brown found an opportunity to get back some money and he did. First, Brown sold Issel to the Baltimore Claws. And then, when he got some bad vibes about the deal, he roared into a meeting with the Claws and sold big Dan to the highest bidder -- Carl Scheer and the Denver Nuggets.
But Dan was elated about Brown's second action, not his first. "I hated to leave Kentucky," he explained. "I had been there nine years in pro ball and college ball, and my wife's family is there, too.
"I had a lot of ill feelings at first. I was even going to fight the deal. But when Baltimore came to me and said how it was going to be, I said, 'Why fight it.' If I fight it and win and stayed, what would it have been like then?
"There is no sense in me bad-mouthing the Baltimore franchise, either. I wasn't happy there. It just wasn't working out like they said it was. John Y. went up there and helped me work out a deal to get me out of there and to here.
"I don't think he wanted to send me to just any franchise for the money," Dan added. "Actually, he didn't have to come there and get me out."
With Denver, Issel, the 6-9, 245-pounder, finds himself in a familiar situation -- that of being with a winner. And also, with Denver, he finds himself back into his role of a center.
Before the Colonels were able to ink Artis Gilmore, the most dominating center in the ABA, Issel played that position. He actually led the Colonels to the runner-up position to Utah in the 1971 ABA championship playoffs. Since that time, though, big Dan has been playing forward.
"I don't see any big adjustment offensively playing the center position again," offered Issel. "I played low forward until last year with the Colonels. With Hubie Brown, I was strictly a forward.
"The big adjustment for me will come on defense. But with Larry Brown's defense, I'm not going to be faced with a one-on-one situation. It might be a problem if I had to play these people one-on-one. That won't be the case here, though."
In getting Issel, it leaves Brown with a frontline of Bobby Jones, David Thompson and Issel. Scheer and Brown had to stuff the thoughts of rookie Marvin Webster playing the pivot when Webster was struck with hepatitis before the season started.
It was a real setback for the Nuggets. The former Morgan State star might never play basketball again. Scheer and Brown were desperate to find a center and one with Issel's ability doesn't come out of a mail order catalogue every day.
"We couldn't stand pat and suffer the consequences without a top center," Brown explained. "Dan will love playing with our team. We move the ball and we're very unselfish. He gives us a lot of flexibility up font, where he can play both center and forward."
Issel also says, "It's going to take us a while to get playing with each other. No one can expect us to play like a team that has been together for three years. We're a young team with a lot of enthusiasm and talent. Once we get into the playoffs we should be strong.
"It would be selfish of me to worry about getting traded," he added. "Some of the greatest guys to play the game have been traded once or twice. Guys like Wilt Chamberlain, Julius Erving, Rick Barry and Willie Wise have all been traded once or twice in their careers.
"I'm only 26 years old and I've got five or six good years ahead of me. When I signed my first pro contract, I said to myself I would only play five years. Last year was going to be my last year. I couldn't quit, though. It would've been too much heartache."
And isn't the money pretty good, too, Dan? He just smiled.
Now people in the league are beginning to wonder if Scheer just doesn't go to the Denver Mint and print his own money to afford the high-priced salaries of Issel, Webster, Thompson, Jones and Ralph Simpson.
Note: DAN PATTISON was an ABA columnist for Basketball Weekly, The Sporting News, and The Deseret News. Dan was also the vice-president of the ABA Sports Writer's Association for two years.
Dan passed away in June 2001 after a brave battle with bone marrow cancer. He will always be remembered for his longtime support of his "magnificent obsession": the ABA.

Back to Main Page