By DAN PATTISON

Injecting some Spirits into the city of St. Louis (column written in January 1975)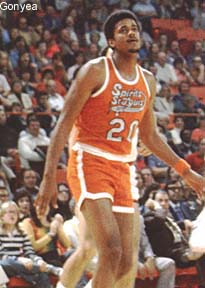 (ST. LOUIS) Maybe, Charles Lindbergh is smiling.
Lindbergh lifted "The Spirit of St. Louis" into the early morning mist of May 20, 1927, and headed east to worldwide fame as the first to make a solo transatlantic flight from New York to Paris.
It not only pioneered cross-oceanic flight, but also showed convincingly what will-power and determination can do. "Lucky Lindy" did what few men had even dared to dream and none before had managed to accomplish.
Maybe, it's with that type of determination and will-power that Harry Weltman purchased the ABA's Carolina team this summer and brought it here and called it -- The Spirits of St. Louis -- in Lindbergh's honor.
Surely, it's difficult, like Lindbergh's problems, to comprehend the obstacles Weltman faced. First, Weltman had very little time to assemble his club, which is attempting to steal a little limelight in the "Gateway City" from the baseball Cardinals, football Cardinals and NHL Blues.
When the NBA Hawks left for Atlanta seven years ago, it created a vacuum in this city as far as pro basketball went. "We've had to re-educate the people in pro basketball," explained Weltman, who had worked with the National Football League, Major League Baseball and the National Hockey League. He made most of his loot in New York marketing and advertisement.
"Basketball isn't the same as it used to be when the Hawks were here," he added. "The city was NBA oriented and also, college oriented. We knew we had a huge undertaking on our hands and very little time.
"We felt we had to start with a good product. We think we have assembled some great rookie players when they show up," he joked about the Marvin Barnes situation (Barnes jumped the club for six games).
Carolina, which placed third in the Eastern Division last season and first the year before, isn't the same club. The whole front office went to Denver and Billy Cunningham, Ted McClain and Mack Calvin are with other clubs.
"If Billy would have stayed with us and we kept McClain, we would have had a fine team," Weltman surmised. "But now our object is to go with youth."
It didn't help to have Cunningham jump back to the NBA Philadelphia 76ers. Weltman sued the 76ers and later settled out of court for $200,000 in the Cunningham case.
Weltman felt his club had enough negative responses to drag the Cunningham affair on too long. "That's our feeling, plus his health was questionable," asserted Harry. "With two kidney operations, you have to be leery of his condition. But we're pleased with the settlement."
He also got a negative response from the city when Barnes bolted. The former Providence All-America wanted to renegotiate his $2.1 million contract. Weltman held his ground. "We stood steadfast and won a lot of support here," Weltman pointed out.
"He made a bad decision. But he's still a fine talent. I'm just glad it's behind us, now."
After Weltman purchased the club, he wanted to hire New York Nets' assistant coach Rod Thorn as his coach. But Thorn priced himself out of the job. And Weltman hired Bob MacKinnon, who was an assistant with the NBA's Buffalo Braves.
Then Weltman and MacKinnon put their heads together and mapped out plans to sign the best talent available. They inked rookies Gus Gerard (Virginia), Fly Williams (Austin Peay), Maurice Lucas (Marquette), and Barnes.
"Our philosophy is to produce a good product first," asserted Weltman. "That's the only way we'll be back. Don Chaney (the Boston guard) will help us next year. St. Louis is a good sports town and you can't fool the people with mediocrity.
"We didn't come in here expecting magic. We thought if we averaged 4,000 a game the first year, we would go away and hide.
"I believe, too, that we solidified our entire situation when we obtained Freddie Lewis, Steve Jones, Tom Inglesby and Gene Kennedy."
Pro basketball is back in the "Gateway City" and Lindbergh's determination continues.
Note: DAN PATTISON was an ABA columnist for Basketball Weekly, The Sporting News, and The Deseret News. Dan was also the vice-president of the ABA Sports Writer's Association for two years.
Dan passed away in June 2001 after a brave battle with bone marrow cancer. He will always be remembered for his longtime support of his "magnificent obsession": the ABA.

Back to Main Page