Terry Stembridge Interview

Conducted by Don Baker

Terry Stembridge was hired by the Dallas Chaparrals of the ABA as Publicity Director and, ultimately, play-by-play announcer for the franchise in 1967. In that first season, he was just one of a couple of broadcasters to air ABA basketball games on the radio, as most franchises didn't then have radio contracts.

Stembridge was the only ABA broadcaster to air every game (pre-season and regular season) for the duration of its franchise (the Dallas Chaps). His games aired on the powerful 50,000 watt KRLD Dallas radio station for six seasons until the franchise was sold and related to San Antonio in 1973. He was the only front office employee to follow the team to San Antonio and continued as the voice of the Spurs on another 50,000 watt station, WOAI San Antonio

At the conclusion of the 1979 season, Terry broadcast his final game for the NBA Spurs - it was broadcast number 1,252 in his career.

Since his retirement from sports broadcasting, Terry has been operating his own oil business from the top floor of a building overlooking downtown Kilgore, Texas, where he now resides. Between his oil interests, his golfing game, and his passion for a soon-to-be-published book he's been collaborating on (concerning the Kilgore oil boom of the 1930's), Terry sat down with me and chatted about his days in the old ABA.

Terry Stembridge poses with the ABA basketball used in the last game ever played by the Dallas Chaparrals. The game was played at Moody Coliseum on March 26, 1973 in front of only 130 fans. Ted "Hound Dog" McClain of the Carolina Cougars blocked a Dallas shot at the final buzzer, and the ball landed at Terry's position at press row.
---
Terry Stembridge, Dallas Chaparrals and San Antonio Spurs radio/TV broadcaster (1967-1979).
An edited transcript of our conversation
Don:Terry, do you keep with people - old friends from your days in the ABA? I know you didn't go to the ABA's 25-Year Reunion in 1997. Can I ask why?
Terry: I regret not going, but a little bit of me didn't want to go. It wasn't one of the things I really wanted to do. But during the summers, I go to Pinehurst and play golf with Doug Moe, Larry Brown, Billy Cunningham, Dean Smith, Roy Williams, Gar Heard, and guys that were in the ABA and NBA together. We play together, a little golf tournament every summer - around fourteen or fifteen of us.
Don: Before you became the voice of the Dallas Chaparrals in 1967, did you listen to any NBA play-by-play broadcasting?
Terry: The only games I ever heard, that I can recall, were the St. Louis Hawks. We could get KMOX because that was the NBA's most southerly team. I'd be listening to Jerry Gross back in 1961 - he made it so exciting and the games were so exciting. I'd be doing high school games and I'd be coming back from little towns around Kilgore. And I'd get KMOX and they'd be playing the late games played by the Hawks out on the west coast - St. Louis had Bill Bridges, Zelmo Beaty, and Lenny Wilkins. They were really good but they couldn't win in the playoffs. Jerry Gross was really good and he knew basketball.
Don: You're watching those dull NBA games on TV back in the late 1960's - always LA, Boston, New York and Philly - and then you're going into your ABA arenas and seeing guys like Connie Hawkins, Ollie Taylor, Warren Armstrong, and in '69, Spencer Haywood. Those guys were performing fantastic feats over the rim. Did you ever think of yourself too as a maverick broadcaster, and that you needed to develop a play-by-play style that fit the ABA style of innovative basketball?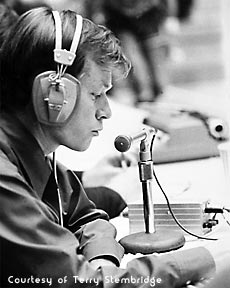 Terry: No - our games were more exciting. If you're running and shooting you're going to have faster pace, a more exciting game. Our games were exciting - we had a lot of personalities in players - we had some fights. The NBA was so slow at that time - dribble it up and get the ball inside to the big guys in the middle. Then it was always turn around and shoot it - or Baylor going one-on-one. I always thought I was a different kind of broadcaster - I had a different style. I was untrained and I didn't grow up in radio. Being in Kilgore, my years in the wilderness of a small 250 watt station - I was my own scorekeeper. I developed the basketball scorebook - announcers didn't have those. I always wanted to tell you, the listener, what I was seeing and feeling. A lot of guys that broadcast just broadcast - but I wanted you to feel the game and I got excited about the games. I wanted to do what I heard Jerry Gross do.
Don: For the hardcore ABA fan, let's talk about the "big trade." Not the Gervin trade, but the Chaps trade of Glen Combs and Ron Boone to the Utah Stars for Donnie Freeman and Wayne Hightower. It took place early in the 1970-71 season, the fourth season of the ABA. What was your opinion on that and why it was done?
Terry: Terrible, terrible. The franchise was doing badly. When Max Williams quit (he stepped down as coach of the Chaps), they gave the job to Bill Blakely. He had been a junior college coach and had no experience in the ABA. He made some ill-advised trades, and management didn't have anyone watching over an inexperienced coach the way they should have. They should have never traded Ron Boone and Glen Combs - Donnie was a good player, but they gave up too much. The truth of the matter is that even as good as Donnie Freeman was, Ron Boone and Glen Combs were fabulous.
Don: And what about John Beasley and Charlie Beasley?
Terry: Somebody didn't like the way John Beasley played. They thought that John wasn't an effective enough defensive player. And Tom Nissalke got rid of Charlie Beasley - Nissalke didn't want anyone from the old franchise. He didn't want anything or anybody else to get credit but him. So consequently, it was his method of operation to downplay anything that had ever gone before - including radio announcing. He was also antagonistic towards me. Nissalke was a bad guy in Dallas and our GM sort of set him up - Nissalke went out to look at the job in Seattle (the Sonics), but he didn't really want to go to Seattle. He wanted to use it as a bargaining chip to get a better contract in Dallas. But the GM wouldn't do it because he really didn't want him. Nissalke backed himself into a corner and had to leave Dallas. But lo and behold, he wound up being the coach in San Antonio in our first year there. He came back like a bad penny.
Don: What were some of your favorite arenas in the ABA?
Terry: One of my favorite arenas to broadcast from was the Auditorium Arena in Denver. It seated about 5,000 and had a balcony. Everything was right on top of you. You could see everything. You could see beads of perspiration on the players. It was a fabulous place to broadcast from. The crowd noise was great, the excitement was great - fabulous place. Strange as it seems, I always enjoyed going to New Orleans and playing at Loyola Field House. The crowds weren't very large, but the arena had a stage-like playing floor - you were down below and the playing floor was up on a stage. The fans were set back and it was an old Quonset Hut-looking building. The building had no air conditioning or heating. When it was really cold, the fans would take newspapers and start fires in the aisles. Like yesterday, I can still see Coach Babe McCarthy coaching a game at the end of the floor in an overcoat. The Salt Palace - where the Utah Stars were in their heyday - was a great, great place to go. And, I always liked to go to the Sports Arena in Los Angeles. The thing I remember is that they had a turnstile counter up there, and every time somebody would go through it, it would click.
Don: Were you in favor of the ABA/NBA merger?
Terry: I had mixed feeling with the merger. I wanted to stay in basketball and I wanted our franchise to survive. Yeah, I guess I was really excited about the merger because I'd been through so many ups and downs in the ABA when it seemed like we were always going out of existence, and we somehow survived. It's really incredible how the ABA survived - there's no reason it should have survived, but there was always somebody else coming in. Look at the leagues that have tried since then - nobody's even gotten a foothold.
Don: What about Loose Balls, Terry Pluto's book about the American Basketball Association?
Terry: Fabulous. I loved it. I thought he did a wonderful job. He got so much of the ABA in there. So much of the humor and the craziness of it. I don't see how you could have written the book any better than letting the people tell their stories. I thought it was one of the best sports books I've ever read. It was really painful for me to read it, because it made you realize that you were a part of something really special when you were young - and now it's all gone. And you reach out for something that's gone, like a puff of smoke.
Don: How about Long Shots - the HBO documentary about the Life and Times of the American Basketball Association?
Terry: I thought it was great too. Obviously, it left out a lot of stuff. But for an hour, they did a really good job. And I didn't see how they could pull it all together like they did. But they did. I was glad to be included. I was thrilled that I got to be a part of it. From the time they shot it to the time it came out - it shocked me. It wasn't long. It only took a few months.
Don: Will you ever write a book about the history of the ABA?
Terry: No. If I have had one regret, it's that I didn't put down what I saw and heard. I just don't think I could pull enough out of my memory. It's been so long ago. I do regret not keeping all of my on air openings and closings. I have some of those on tape, and I thought of doing a little book for some of my friends. Some of my openings and closings really did capture the spirit of a vanished league.
Don: In the 1979 NBA Eastern Conference Finals, your Spurs had the Bullets down three games to one before losing that series. An interesting phrase came out of it: "It ain't over 'till the fat lady sings." Can you tell me that story?
Terry: I don't know who got the credit for it. I think Dick Motta gets credit for it. Somebody said that a San Antonio sportscaster used the phrase "The fat lady hasn't sung yet." A lot of people thought it was me. But in reality it was Dan Cook, the sports editor of the San Antonio newspaper. He was the one that said it because he also had a San Antonio sports show and he uttered it one night, and Motta picked up on it. And Motta credited a San Antonio sportswriter and people mistakenly thought it was me. I wish I'd been the one - but that's where it came from. But in 1979, the San Antonio Spurs should have been in the NBA Finals, and they should have won the NBA Title. That would have been a fitting triumph and glory for the ABA, and it's just a shame that it didn't happen.
Don: Your final season broadcasting was the 1979 season. What made you walk away from the game?
Terry: It was a combination of things. I had made the decision to retire in the fall/winter of 1978. I was offered a chance to go into the oil business, and I felt like I needed to go. It was the only way I was going to be financially independent. I thought I probably should have stayed in radio - a part of me died with basketball - I defined myself by being the voice of the Chaps and the Spurs. I had confidence and felt like I contributed something. I felt like it was appreciated.
Don: Do you think that there'll always be a play-by-play radio broadcaster? Is there always going to be a place for a guy giving a verbal description of a basketball game?
Terry: That's a good question - radio is not as important anymore. I think a lot of people will still listen to basketball - they'll listen on their car radios. I don't think they'll listen in their homes because they televise so many of the games now. So radio broadcasts are going to be dependent on car radios, mostly.
---
This interview Copyright © Don Baker and used with permission

Back to Main Page