Los Angeles Stars Fan Memories (Page 2)
MEMORIES OF JIM CURRAN: "I truly cherish my own memories of the ABA.
I recall the Anaheim Amigos home opener in 1967, it was televised. I was 12 and thought it was very cool to see another pro team in the area besides my Lakers, with John Fairchild getting minutes instead of sitting on the Lakers bench.
The next year, "we" went to the ABA finals with the great Bill Sharman as the coach. It was a 3-2 series when the now-LA Stars hosted the Eastern Division champs, the Indiana Pacers. That very evening, my dad took me to the Sports Arena in downtown LA to get tickets. The cost was $5.50 for the loge or 2nd level, but we snuck down to the 3rd row for the second half. Imagine, the 3rd row front and center for a Game 6 title game! A long, long time ago indeed!
Anyway, it stays in my memory as one of the most exciting games I ever saw in person. Tons of scoring, great passing, smart coaching. Sharman (a personal favorite of me and my dad's), had his match in Indy's coach Slick Leonard. The Pacers had the great Mel Daniels - a 6'9" power center-type, similar to Ben Wallace only with more offense. They also had the late, great Roger Brown - his game was similar to any all-around star 2/3 position scorer of today - think Gilbert Arenas, T-Mac, Carter, Pierce. Sadly, the only LA Star I truly recall is Mack Calvin He had a great game in Game 6, took over as regulation wound down and pushed it into OT. That was when Brown and Daniels took over. The crowd was loud, about 9.000 of us in the 12,000 seat arena and very pro-Stars. Anyway, we were in the game until the very last minute of OT, and lost by a point, something like 137-136. It was a typical high-energy, high-scoring ABA game. I was disappointed that the Stars lost, but I still got almost everybody's autograph after the game. Long ago.
We still followed the Stars for a few years after, even when they moved to Utah for the rest of their existence. But it got harder as the LA Times didn't follow them or much of the ABA after the 1969-70 season. Of course we had the Lakers, who would field the team of Wilt, West and Baylor the next year. Plus I turned 15 in 1969 and got interested in young teenage stuff, whatever that was then.
But I love to remind my dad - now 78 years of age and still a basketball nut - of how we sat front and center for a championship game, total price of $11.00, plus…maybe 2 or 3 dollars for hot dogs and cokes. We saw a game that was easily in the top 5 all time most exciting games of our lives. I remember the great loud colors of the Pacers and Stars uniforms, the red/white/blue ABA ball, the sounds of the sneakers squeaking on the old Sports Arena floor, as well as the crowd roaring at every great play. And just about every play was great. A truly fond memory of bonding with my dad and of course, the world's greatest game...basketball! It was our own little trip. And for that special moment, I've got to thank the American Basketball Association."
MEMORIES OF BUD PELL: "I was the ballboy for the L.A. Stars both of their seasons at the L.A. Sports Arena. Bill Sharman was an outstanding coach and a great human being. I was glad to hear recently from his former assistant, Larry Creger, that Coach Sharman has made a great recovery from his voice problems of past years. Coach Creger and trainer Buddy Taylor (from Tennessee State) were two other gentlemen who went out of their way to make me feel like I was part of the Stars organization. Of the players who came and went, I remember "Easy" Ed Johnson and Willie Wise most fondly. Ed Johnson in particular took a liking to me that first year in Los Angeles. In fact, I was thrilled when he came to see me play for my high school team in 1969. He was tall (6'10") and thin, a biology major, I believe, out of Tennessee State. He got off to a late start because of a broken arm but, as I recall, did quite well until he was traded to New York. I was very disappointed to see him go and I was delighted when he came back to town in a visiting uniform and went for twenty-two points and twenty rebounds.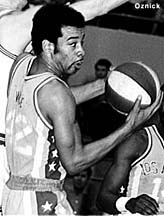 Willie Wise (left) was another very decent fellow. He came to the Stars out of Drake University where he got second billing to Willie McCarter. I think Willie was a late round draft pick of the NBA Warriors and a free agent or low round draft pick of the Stars. I remember talking to him in the training camp locker room at Trade Tech J.C. in 1969. I told him how much I hoped he made the team, how impressed I was with his hustle and his ability to score inside over much bigger players. He appreciated my comments and made it clear that he would be thrilled just to make the team. Of course, he did, and went on to have a great, all-star career in the ABA.
I attended a few Stars practices. At one, in training camp, Sharman asked me to fill in for a missing ref during a scrimmage. (He knew I was a pretty decent high school basketball player at the time.) I remember calling three seconds on Bill "The Hill" McGill, and his becoming quite upset since he was trying hard to make the team. At another practice, at the old Pepperdine gym, the team was short-handed and Coach Sharman actually asked me to fill in during a five on five drill. It was one of the thrills of my life to that point, especially as I hit a couple of unguarded shots from the top of the key and received some jocular but favorable comments from George Stone, et al.
After that second season in L.A., the playoffs were fantastic. It was the first time all year we had decent crowds and the fans really got into it, especially when we played a couple of games in Anaheim. Some fans were hoping to get the team back. The Stars lost in the finals to a great Pacers team with Roger Brown and Mel Daniels, et al, but it was a great effort by the players (including several rookies) and the Stars coaching staff to get that far."
MEMORIES OF JOHN BUDKE: "George Stone, of the L.A. & Utah Stars (left, #33), was one of the hottest shooters I have ever seen bar none. In the 69-70 playoffs he almost carried the Stars to the championship. When he got in that zone, he couldn't be stopped. He was very fluid and shot the 3 pointer like no one else before or since that I have seen. What was interesting was that he shot most of his 3 pointers as he drifted left on the right side of the court."
MEMORIES OF DON BAKER: "I remember the first time I saw a nationally televised ABA game. In 1970, CBS showed some of the championship playoff series between the Indiana Pacers and the LA Stars. As I remember, the broadcasts were in black-and-white. I can't recall how many of the games I viewed (three or four), but it was fun. Don Criqui was the voice for CBS. It's interesting to note the really catchy music CBS used to introduce this playoff series (I taped the music with a reel-to-reel recorder). Also, the network's innovative use of a fisheye lens to show Mack Calvin dribbling the basketball down the court. This was CBS's promo for the game and they really did a super job. As for the their camera work for the live game action, it was typical NBA style: a downward angle from somewhere high in the stands. For me, it was the first and only time I ever saw George Stone, Merv Jackson, Craig Raymond -- just to name a few -- play. If you remember that series, Willie Wise, George Stone and Craig Raymond really held their own against a more talented Indiana frontline. Jim O'Brien (of The Sporting News ) called LA the "Sleepwalking Stars" and they took the Pacers to six games."
MEMORIES OF JOHN HENDRY: "Actually saw the LA Stars for my only ABA game - I was l5. I saw them play the Kentucky Colonels, the team with Dampier and Carrier. The tickets were just given away - but I remember it well. It was a Sunday game at the LA Sports Arena. No more than l,000 in the stands. A close game. The Stars won and Willie Wise was the star. Strange coincidence--some years later, I won LA Clippers season tickets. The Clippers also played in the old LA Sports Arena."
MEMORIES OF GARY CLODFELDER: "I used to live in Southern California and went to many LA Stars games. For 5 dollars, you could actually sit floor level and I did, many times. I still have programs from a Stars regular season game and also one of the 1970 ABA Finals games between the Stars and Pacers at the Anaheim Convention Center. Roger Brown had about 45 points in that game.
I was sad that the team moved to Salt Lake City, but I have so many memories from the Stars games I attended. I even remember seeing a "doubleheader" - not like a baseball double header, but with 4 different ABA teams (including the Stars) playing in the two games. I remember seeing Rick Barry play for the Washington Caps. He rarely played any defense, but when the Caps were on offense, he wanted the ball ALL the time. As soon as the Caps had the ball, he would clap his hands or whistle for the ball.
On one particular occasion, I was sitting in the area right behind the basket at the LA Sports Arena, next to two boys and their mother. It was Ron Howard and his brother Clint…hardly any others in that seating area, and here I am sitting next to Ron Howard. These are just a few of the many things I remember about the ABA games I attended."
MEMORIES OF STEVE POLEVOI: "I have a Los Angeles Stars memory that has lasted for nearly 40 years. In the fall of 1968 I was a 6th grader attending Laurel Elementary School in the Fairfax/Melrose District. The LA Stars scheduled a basketball skills clinic at the school, promising a big league player or two, and a free ticket to a Stars game for every kid in attendance. To those of us that were huge sports fans, this was the highlight of the year (to be sure, we were all rabid Lakers fans, but the Lakers certainly weren't coming to Laurel Elementary School).
On the day of the clinic we were led out to the basketball courts in single file lines by classroom and were told to take a seat on the ground surrounding the court. A Stars PR rep kicked things off by introducing us to one Elvin Ivory, a 6 foot 8, 20-year old from Louisiana-Lafayette, who was a reserve forward on the club. He was probably the tallest person any of us had ever been around, and he stuck out like a sore thumb as that area of LA was 100% white (remember, we're talking 1968).
Ivory demonstrated some drills, took shots from various points on the court, and performed one-on-one and h-o-r-s-e games with some selected students. The PR rep announced that they were out of time and that, before she distributed the coveted free Stars tickets, Elvin could field a few questions from students. I don't remember any of the questions, but one kid requested that Elvin perform a slam dunk. All us kids cheered for it and I clearly remember Ivory smiling at the request. He took the ball to center court and dribbled towards the basket. He went up for what today would be considered a "Jordanesque" type dunk, only to miss it by clanking it of the back of the rim. The ball flew straight up in the air and landed somewhere behind the basket. We had all witnessed the improbable: a 6'8" professional basketball player missing a slam dunk on an 8 foot elementary school basket!
The free tickets were somewhat mis-represented as you received a single general admission ticket that was only good with an accompanied, paid adult admission. Only a few kids actually convinced their parents to take them to the game, a typical ABA high scoring, blow-out loss to Denver.
As you can clearly see by reviewing his stats, Elvin Ivory wasn't that good, even by ABA standards. In a career that lasted only 20 games, he shot 44% from the field, 25% from 3 pt land, and 65% from the stripe. He was, however, a prolific rebounder, garnering 166 total rebounds in 188 minutes of play, giving him .88 rebounds every minute of action. If you put the same stat on Kevin Garnett, he'd be pulling down 35 rebounds per night, roughly 15-18 higher than his average.
Today I cannot name a single member of the Stars except Elvin Ivory."
MEMORIES OF MICHAEL P. TAYLOR: "I remember seeing the Anaheim Amigos play in the Anaheim Convention Center...which only had about 7000 seats...As I remember, most of them were empty. Then the team moved to L.A. and became the Stars. I remember going to the playoff games between the Indiana Pacers and Stars in the Anaheim Convention Center. For some reason which I don't remember, they came back to Anaheim to play some of their playoff games. The place was just about sold out. And everyone was excited about the Stars. Then a rumor started floating around that the team might move to Salt Lake City. I remember one guy passing a petition around for people to sign, in hopes of keeping the Stars in Southern California."

Back to Main Page