Utah Stars Fan Memories (Page 1)
MEMORIES OF MATTHEW ROBLEZ: "The Salt Palace was a GREAT venue for sports. It was truly one of those arenas where there was not a bad seat in the house. When I was a kid I would look up at the ceiling. It had all kinds of beams, columns, etc. and they kind of formed a 5-pointed star. I thought that was why they named the team the "Stars." In the Utah Jazz' new arena, the Delta Center, there are three BIG banners that say 'Jazz--NBA Midwest Division Champions.' In the middle is a tiny banner that says 'Utah Stars ABA World Champions.' I get mad every time I see that, because the Stars accomplished so much more than the Jazz.
One year John Brisker was coming to town with Pittsburgh. He stated in an interview a few days prior to the game,'I will kill anybody that gets between me and the basket!' (or something to that effect). Bill Daniels (the owner of the Stars) managed to get ahold of heavyweight boxer Ron Lyle. Mr. Daniels put Lyle on the bench to, 'Make sure Brisker didn't get out of line.' There was a lot of anticipation before the game, but no fireworks during the game. Brisker backed down once he saw 6'-4" 260 lb. Lyle (who had spent 6 years in prison) staring back at him from the Stars bench! It was a pretty interesting event that could have only happened in the ABA.
When the Stars went bankrupt everything was auctioned. Rumor has it that the 1971 championship ball went for $100.00 The uniforms were donated to the L.D.S. church for their youth basketball program. At the time, my brother was playing ball for the local Mormon church when these uniforms came in to be used. He says that the box was opened and there were the actual uniforms from all the Stars greats: Beaty, Boone, Combs, Nemelka, everybody. But no one realized the value of such memorabilia. Everybody started to rip the Stars logos and names off the shirts and pants so their own names could be sewn on!"
MEMORIES OF SCOTT WARD: "I was only 10 years old when the Los Angeles Stars moved to Salt Lake City. The city had just built a beautiful, state of the art arena (the Salt Palace) one year prior. I remember my parents saying that finally Salt Lake City would be on the map. The city was full of enthusiastic talk of all the big names that would be playing here, not names like Rick Barry and Spencer Haywood, but local favorites like Merv Jackson, Dick Nemelka and Jeff Congdon. Before the Stars, Salt Lake had always been a college town when it came to sports, so it seemed likely to sign a few local favorites. It didn't take long for Salt Lake to see who was the real talent in the league was. The Stars made their first major trade early in the season sending All-Star Donnie Freeman and Wayne Hightower to Texas for Glen Combs and Ron Boone. I feel this was the trade that put them on the road to the ABA Championship.
Every player on the Championship 70-71 team had a nickname. The starting five were known as: "Big Z" Zelmo Beaty, "Wonderous" Willie Wise, Glen Combs "The Homerun King", Red "Head" Robbins, and Ron "The Booner" Boone. Rivalries quickly started with teams like Indiana, Kentucky and Texas. It's funny because these were the teams that Utah would eventually face on the way to the Championship. I remember that every game had some kind of promotion from nightly give-a-ways to famous personalities. Maybe this was the early sign that the team had financial problems and was doomed from the start. The strangest promotion was the night that fans with no teeth got in free to razz Kentucky's Dan Issel.
On the court, opposing players seemed to be worst enemies, but off the court they were just the opposite. My dad was a bartender at a local private club and remembers many times when Stars players would come in with some of the visiting players and party as if they were best friends. I remember waking up the day after a game to see if my dad had found any autographs for me. I still have several ABA autographed bar napkins from Utah. If that's not a one of a kind, I don't know what is.
There are three things that are still in existence today to remind us of the 1971 Utah Stars Championship Team. The first is the 1971 championship banner that now hangs in the Delta Center. Second would be the old Stars Ave. sign that's in front of KALL Radio, the former station of the Stars. And last but not least is our own memories, they can never be taken away."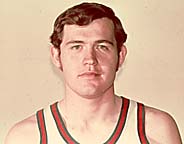 The 1970-71 Utah Stars Championship team was strongly anchored by Willie Wise (upper left), the "Big Z" Zelmo Beaty (upper middle), Ron Boone (upper right) and Glen Combs (right). While Boone, Wise and Beaty were perennial ABA All-Stars (each made the recently announced All-Time ABA Team), Combs was the unsung hero of the group. Combs, known for his three point accuracy, came to the Stars early in the championship season. He averaged a career high 20.3 points per game that year. More impressive was his next season, 1971-72, in which he hit 103 out of 254 three point attempts--for a spectacular three-point field goal percentage of .406.
(ABA publicity photos courtesy of Jon Singer)
MEMORIES OF GUY YOCOM: "I was 14 years old in 1970 when the Stars came to Salt Lake City and won the ABA title. That team whipped the Indiana Pacers (with Mel Daniels, Roger Brown, Bob Netolicky, Billy Keller and Freddie Lewis) --in 7 games, winning the deciding game in Indianapolis. Then they thumped the Kentucky Colonels (Dan Issel, Louie Dampier, Darel Carrier, et al) in the ABA Finals. That tells you something about how great those early Stars teams were, and I've always been bemused that the 70-71 Stars team is rarely mentioned with other great ABA teams. Zelmo Beaty, Willie Wise, Red Robbins (the walking 1-iron), Ron Boone and James Jones played so well together. My favorite player was a shooting guard named Glen Combs (the "Kentucky Rifle") who shot over 36% from 3-point land over the course of his career. The guy just drilled Louie Dampier whenever they went head to head.
The Stars were the only major-league game in town, and they were just great with the community. They practiced at a small Mormon Church gym only one block from my house, and Bill Sharman (and later LaDell Anderson) had no problem with letting the neighborhood kids come in and watch, so long as we kept absolutely quiet and sat still. These practices weren't much; looking back, I recognize they were simply informal "shoot-arounds" that Sharman made famous (and which other coaches in both leagues eventually copied). When the shoot-around ended, we'd spill out onto the floor and the players would spend a bit of time horsing around with us. One player, a 6-7 forward named George Stone, picked me up by my arm pits one time and helped me dunk a ball. That was something!
One of my outstanding memories, however, is a sad and indelible one. That first year the Stars had a very fine player--a former college All-American from the University of Utah named Merv Jackson--who got hurt midway through the year. There was a game where the injured Jackson showed up wearing a long, "Super Fly" leather coat, and at halftime, when I came out of the stands and wandered down to floor level to check things out, I encountered Jackson in a fierce, one-way argument with the Utah Stars' owner, Bill Daniels. Daniels was doing all the talking, shaking his finger in Jackson's face, giving him unshirted hell over not helping out with the radio broadcast or some such thing. To this day, I clearly recall a snippet of Daniels' diatribe: "I will trade your ass in 6 seconds, Jackson, and don't you disbelieve it!" Jackson stared straight forward, refusing to make eye contact, utterly defiant. He didn't last much longer.
I often wonder what happened to those other Stars players. This was before the big money years and I suspect a lot of them are just regular guys somewhere. But I feel I owe them a lot. I became a sportswriter largely due to their inspiration, and though I've seen and talked to many great athletes over the years, those Utah Stars guys were special. I've always wanted to thank them personally for the thrills they gave me."
MEMORIES OF JON ROBERTS: "During the 1970-71 season I was a senior in high school and worked for the Utah Stars. During their games, I worked the mimeograph machine (remember those?). I made copies of the quarter play-by-play sheet, as well as the halftime and final game stats. Prior to tipoff I did various odd jobs that the GM, PR, and other Stars employees needed. I was paid $5.00 per game plus 2 comp tickets for every home game, including all home playoff games. The Stars won the ABA Championship that year. To me, the most memorable moment was when the Texas Chaparrals traded Ron Boone to the Stars. When Boone was still with Texas, the Stars played a home game in Logan, Utah at Utah State (about 70 miles from Salt Lake City). I rode the bus with the Chaps to Logan and back. On the return trip, I got to know Ron Boone and some of the other Chaps. As an 18 year old, I really enjoyed the moment (and the beer they gave me!). Little did I know that Ron Boone and Glen Combs would be traded to the Stars only a few weeks later, for Donnie Freeman and Wayne Hightower. That was a very special year. After that season, I went on to college at New Mexico State and did not have the opportunity to continue working for the Stars. However, my memories of the Stars and the ABA will always be with me."
MEMORIES OF JACK B. WILHITE: "I was a huge ABA fan because the players were so approachable. After Utah Stars games, my father would take our family to the TravelLodge in downtown Salt Lake to eat dinner. Just so happened that most opposing teams stayed there. One night, the Stars beat the Pacers in double overtime. George McGinnis, Billy Knight, Charlie Edge, and Len Elmore all walked into the restaurant for a postgame bite. I went up to their table and asked for their autographs and they were all very nice. I never really liked McGinnis up to that point. But Big George made sure that every Pacer at that table signed my program. Stars' forward Gerald Govan showed up a little later and sat by himself in the coffee shop. My brother and I debated whether or not we should bother him -- he didn't look very approachable at first glance. We went up to him anyway and he was more than happy to give us his autograph. I met a few other ABA players while I was growing up, and they all seemed very nice. One that comes to mind is Jumbo Jim Eakins. What a great guy. One time he showed up at a bank near my house and signed autographs for hours. Al Smith was also cool -- he gave me two tickets to a Stars vs Seattle Sonics pre-season game (which we won). The ABA was all about the fans, and the ABA players did their part to make sure the fans got what they came for. I've met quite a few of 'today's' players, and let me say I'm not impressed. The ABA players had it going on -- they were fans' players."
MEMORIES OF LINDA SMERNOFF-JENSEN: "My memories are very clear. I live in Utah and the Utah Stars took the ABA championship the first year they were here -- with those wonderful red, white, and blue balls. My husband was the photographer for the team. He made a wonderful highlights film called "When You're Hot You're Hot". It was a fantastic experience! I remember many of the players, but my favorites were Ron Boone and Zelmo Beaty."
MEMORIES OF ROSS BRYNER: "In the ABA, the Utah Stars and Denver Rockets/Nuggets did something cool that modern day NBA teams wouldn't even consider. They played each other in a 'series' of pre-season games in smaller cities throughout Utah and Colorado. I'm sure neither team made money playing in these small towns. But what a neat opportunity these games provided for fans in the less populated areas of the Mountain West. To me this illustrates how classy the ABA really was. These teams must have really wanted to gain a fan base throughout their home states.
In the pre-seasons of 71-72, 72-73 and 74-75, the Stars and the Rockets/Nuggets played in my home-town of Price, Utah – population 10,000! Talk about up close and personal! All 1200 seats in our high school gym were great seats. The 72-73 game was the first time I saw the Stars in person. I was eleven at the time. We sat about 6 rows back behind the Stars bench. I remember how white and bright their uniforms looked and how tall the players seemed. I remember seeing the spin of the red, white and blue ball as Glen Combs drained a three pointer. Ron Boone became my favorite player, and I thought it was amazing how he came down the court for a rim-rockin' dunk on a fast break. Willie Wise was injured and did not play. But he was sitting on the bench wearing this lime green jump suit with large bell bottoms and flared and slightly ruffled sleeves. I suppose that was pretty hip back in 1972. I slipped down to the bench, tapped him on the shoulder and asked for an autograph. He smiled and said "there you go!" after signing my program.
The 74-75 game in Price matched two rookies against each other. Eight years later, these two would go on to be teammates on the 1982-83 NBA World Champion Philadelphia 76ers. Utah's Moses Malone and Denver's Bobby Jones. I remember how slim Moses was (as compared to later in his career) and how well he did in that exhibition game even though he had just come out of high school. On one play, Bobby Jones got slammed into our high school gym's brick wall. I remember thinking, man, that guy looks kind of frail. The Stars also had Wali Jones that season. I already liked him from when he was a Milwaukee Buck earlier in his career. Wali slipped on the court, lost the ball, and blurted out a few "expressions" that could be heard throughout the building. That got a few laughs from the crowd. It's hard to believe that these memories are from nearly 30 years ago.
During the ABA regular seasons, I followed the Stars religiously. I listened to Bill Howard broadcast the games on the radio, and I enjoyed the occasional T.V. broadcast. And I was fortunate that several times, my Dad drove the 250 mile round trip to the Salt Palace in Salt Lake City to take me to Stars games. I remember attending one game where the Pacers won a close battle. I was ticked off and hated the Pacers back then! They were the Stars' biggest rivals and what a great match they were for Utah: Daniels vs Beaty, Brown vs Wise, Lewis vs Jimmy Jones and so forth. I saved (and still have) all the Topps Basketball cards of the Stars players. I cut out magazine and newspaper clippings and made an ABA scrapbook. I had an ABA bedspread, ABA pennants and posters of ABA players on my walls.
During the 5+ seasons that the Utah Stars played in Salt Lake they seemed to generate a feeling of excitement that in my opinion has not been matched by the NBA Utah Jazz. Stockton and Malone have been great and the Jazz as a whole have been extremely successful, but the Stars were extra special. Perhaps it is because the Stars won a championship in their first season here, and maybe the fever of that event carried over for several seasons. And for this "Country Kid" from Price, Utah the memories are still great!"
MEMORIES OF DENNIS W. PETERSON: "I was a young orderly working in a hospital emergency room in Salt Lake City one Sunday afternoon. Willie Wise was brought in to have sutures placed from an accidental head butt he suffered in that day's game. It was a laceration somewhere on his head. I think it was the season they won the championship (1970-71) and all of us in SLC were head over heels excited about the Stars. I was sorry he got hurt but I was glad to get a chance to be so close to such a celebrity. I assisted while he was sutured up and remember that he was very stoic through the shots. He was subdued but very polite to me and the staff. I didn't bother to ask for an autograph -- too shy! -- but have always remembered my encounter with the man who was already my favorite ABA player."
MEMORIES OF JACK BRIGGS: "I check this web page every so often. I did today and it reminded of the recent death of Bill Daniels, the former owner of the Utah Stars. Although I never met him he sure did me a big favor and was a class act. In the fall of 1975 I was hired to do the radio play-by-play of the Stars. He had already sold the team to a pair of brothers who turned out to be broke. They simply couldn't afford the franchise. As you know, the team folded in December 1975, leaving us all with bills to pay. Several years went by and I noticed a story on the AP newswire that said Mr. Daniels was making good on claims from people who were hurt by the folding of the Stars. I was out about $2,000 in personal expenses (rental car, etc) and son of a gun, the man came through with a check. How many people in pro sports would do that today? I was saddened when I saw the notice of his recent death."

Back to Main Page