Friday Night Reception
To me, the most interesting Reunion event was the Players' Welcome Reception on Friday night, August 22nd. It was clear that many ABA players, coaches and owners had not seen each other since their playing days.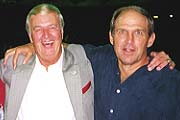 The most emotional moment I saw was when Steve Chubin found his former coach, Slick Leonard. These two only spent portions of two seasons together. But at the Reunion, they obviously had some serious war stories to rehash!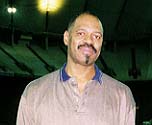 Some of the more recognizable players, like George Gervin, David Thompson, Artis Gilmore, Marvin Barnes, and Connie Hawkins, were continually surrounded by large groups of reporters, fans, and autograph seekers. Gilmore (left) was quiet and tried to stay out of the fray. People didn't seem to expect that Barnes would show up, so when he did, he was mobbed. Gervin and Barnes seemed to have a great time being in the limelight.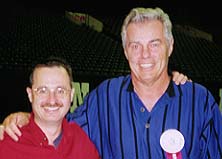 Needless to say, one of the most cordial players at the reception was Doug Moe. Moe was as talkative and friendly as ever. Here he is with Marty Machniak.
The four mainstays of the Utah Stars, Zelmo Beaty, Ron Boone, Willie Wise, and Jimmy Jones arrived and stayed near each other during the entire reception. Predictably, all of the former Spirits of St. Louis (Freddie Lewis, Marvin Barnes, Gus Gerard, Steve Jones, Maurice Lucas, Ozzie Silna, and Mike Barr) arrived at different times of the night. Needless to say, Marvin was not the first of this group to arrive! I noticed that Marvin clapped Gus Gerard on the back with a warm welcome.

Back to Main Page