Saturday Morning Autograph Session
Saturday Afternoon Memorabilia Auction
Saturday Morning was a sight to see as over 30 former ABA players sat behind tables to chat and sign autographs for fans. As soon as the autograph session opened, commemorative ABA balls went on sale. They became an immediate hit, and a popular autograph item.
The autograph session was an opportunity for fans to see some familiar ABA faces, such as Louie Dampier and Dan Issel. Since the event was held in Indianapolis, many fans seemed interested in having their old Pacers items autographed by their team favorites: Billy Keller, Bob Netolicky, Freddie Lewis, Darnell Hillman, and George McGinnis. But, Saturday morning was also a chance for fans to meet some ABA players who rarely make public appearances, such as Warren Jabali, Darel Carrier, and Jim "Goose" Ligon.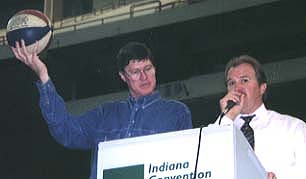 The Saturday Afternoon Memorabilia Auction was also a spectacle, as over a hundred ABA items were auctioned off to a free-spending crowd. The most popular auction items were game-used ABA red, white and blue balls. The balls drew a lot of attention from bidders on the floor and on the telephone. The Reunion also brought many rare and unusual game-used ABA uniforms out of the woodwork: there were a few San Diego Sails jerseys and warmups, a Pittsburgh Condors jersey and warmup, and many All-Star jerseys. It was probably the largest group of ABA jerseys ever assembled in one room.
Crowd favorite Bob Netolicky displayed items while auctioneer Tony Wills sold them off. The ball above was a ball used in Game 6 of the 1972 ABA Finals between the Nets and the Pacers. It sold for the healthy price of $1,800.

This Mike Lewis Pittsburgh Condors uniform (right), along with its matching warmup, fetched an incredible $3,200. Arguably, the high price is justified since in 1972, the ABA folded the Pittsburgh franchise and gave away all of the Condors' uniforms, trunks and warmups to Attica Prison in upstate New York. The prison used the Condors equipment in its prison basketball league. Somehow, these two pieces survived.
Some of the uniform prices realized in the auction: a 1975 game-used Memphis Sounds home jersey (with no name on the back) went for $1,000; a New Orleans Buccaneers 1969 home jersey (Jerry Rook) went for $1,000; a San Diego Sails road jersey, with trunks (Bobby Warren) went for $2,500; a 1976 ABA All-Star jersey (Don Buse) went for $850; a 1971 Kentucky Colonels jersey (Dan Issel) went for $2,500; and a 1975 New York Nets home jersey (Billy Paultz) went for $950.
A mint & unused 1975 Dave DeBusschere ABA Ball went for $1,900; a mint 1974 Mike Storen ABA Ball went for $2,100; a game-used 1967 George Mikan ABA Ball went for $1,800, and a really, REALLY game-used 1973 Bob Carlson ABA Ball went for $600.
Oddball items like a 1971 ABA All-Star Game golf bag went for $450; a Pittsburgh Condors ashtray went for $130; and a key to the City of Indianapolis given to Bob Netolicky by Richard Lugar went for $100.

Back to Main Page