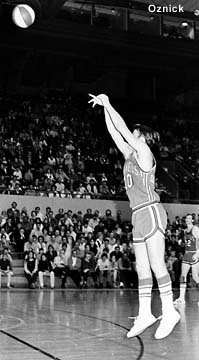 Sound Clip -- May 1973: Dampier discusses his quick initial adjustment to the ABA's red, white and blue ball.
Some ABA players loved the red, white and blue ball, and a few hated it. Players who came to the ABA from the NBA tended to dislike the tri-colored ball, fearing that it would affect their long-range shooting.
Longtime ABA players, however, were proud of the colors and even enjoyed watching the ball spin in the air during jump shots. Louie Dampier (at left, the ABA's all-time leader in three-pointers made) was one of those players.
Streaming RealAudio file -- RealPlayer plug-in required (free download here)
Clip courtesy of Van Vance and used with permission