Sound Clip -- April 17, 1974: Dr. J hits an amazing fallaway jumper at the buzzer to give the Nets an 89-87 victory over Kentucky in Game 3 of the 1974 ABA Eastern Division Playoff Finals.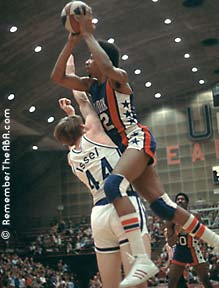 The 1973-74 season was Erving's first with the New York Nets. Nets fans quickly learned to expect buzzer-beating shots from their new hero.
In Round 2 of the 1974 ABA Playoffs, the Nets faced the powerful Kentucky Colonels in a "best of seven" series. The first two games were played at Nassau Coliseum in New York, and the Nets crushed the Colonels in both games. The series then shifted to Louisville's Freedom Hall for Game 3. Desperate for a victory, Kentucky played well. But with 17 seconds left in the game, the score was tied at 87, and the Nets had the ball. Everyone in the building knew who would take the last shot for the Nets -- but that knowledge didn't help the Colonels. Dr. J dribbled away most of the clock and, with only a second left, launched a fadeaway jumper from the free throw line over several defenders. The shot banked in, giving the Nets an 89-87 victory and an insurmountable 3-0 series lead.
Van Vance, the radio voice of the Colonels, had the tough task of describing Erving's heroics on the Colonels Radio Network.
Streaming RealAudio File -- RealPlayer plug-in required (free download here)
Clip courtesy of Van Vance and used with permission