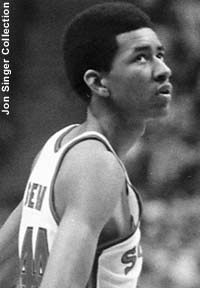 Sound Clip: February 1, 1974 Interview with George Gervin (conducted by Van Vance)
On February 1, 1974, George Gervin was still a Virginia Squire -- but only barely. A few days earlier, the Associated Press reported that Gervin had been sold to the San Antonio Spurs. And that very day, the Spurs had filed a lawsuit in federal court, claiming that they rightfully owned Gervin's contract.
That night, in front of 2,000 cheering Squires fans at Hampton Roads Coliseum, Gervin hit a spectacular game winning shot against the Kentucky Colonels. After that game, Van Vance conducted this interview with Gervin. In the interview, Gervin described his game winning shot, his progress in the ABA, and his strong desire to stay with the Squires.
Only six days later, forced by a court order, Gervin played his first game with the Spurs.
Streaming RealAudio file -- RealPlayer plug-in required (free download here)
Clip courtesy of Van Vance and used with permission