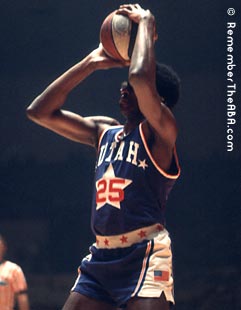 MEMORIES OF STEVEN KINCAID: "I have hundreds of memories of the ABA but one stands out for some unknown reason: Gerald Govan and his outside shot. Govan's rotation on the ball was slightly sideways and made the colorful ball spin oddly. It was the strangest thing to look at. Needless to say he was a terrible shooter, but a great defender and rebounder. Also those thick glasses added to the mystique."
MEMORIES OF KEN BERRYMAN: "I lived over 250 miles from any ABA city, but on October 5, 1971, I saw my first and only ABA game, an exhibition game between the Floridians and the Memphis Pros. I was attending the University of Oklahoma at the time and the game was being played on the campus of Oklahoma Baptist University in Shawnee, OK, only 30 miles from the OU campus. I honestly don't remember who won this game, but I still have the 15-cent program as a souvenir. Memphis had Wendell Ladner, Jimmy Jones and Charlie Williams, which was a pretty good nucleus, but the player I remember the most was Gerald Govan and those Buddy Holly-style glasses he wore. He couldn't shoot, but he truly dominated the boards."
MEMORIES OF BRUCE BASKIN: "I have to admit to being surprised that Gerald Govan only got 1 vote for the ABA All-Time Team. All I know is what I read, but it seems a guy who could rebound, block shots, pass very well for a big man and apparently play good defense should've received more consideration. I mean, even STEVE CHUBIN got a vote. Maybe it's just me, but the impression I get is that Govan was a very good player on some really bad teams (although New Orleans was good early on). Oh well, life goes on."