San Diego Conquistadors

Fan Memories

MEMORIES OF RICHARD CRAIG: "The Q's played in a total of three arenas. The first was Peterson Gym on the San Diego State campus, and the second was Golden Hall, which was basically a ballroom in the middle of San Diego's civic center downtown complex. They played there during the Wilt year (1973-74). It wasn't any bigger than Peterson Gym but since it was downtown it was easier for most fans to find (not that many ever did). There's a shot near the end of the HBO documentary of an organist playing right at the end of the court at a Q's game, and that was in Golden Hall. In fact, the organist is Danny Topaz, who was the Padres' organist for years and who may also still be floating around San Diego somewhere. Golden Hall is still there, by the way, though Peterson Gym is not. I remember Ron Reina calling Q's games and having what seemed like an uncanny knack for knowing the exact distance of every jump shot. I distinctly remember him calling a shot by Travis Grant at the end of the first half of a game -- "Grant ... 41-footer ... Good!" I'm sure he was just guessing, but I was impressed. I recall seeing Wilt on the sidelines wearing a bright kelly green outfit and sandals (I wish there was film of it). I also remember watching Bo Lamar and Stew Johnson gunning away, and seeing a VERY young Caldwell Jones at center battling Billy Paultz."

MEMORIES OF REGINALD MARSHALL: "When Washington D.C. had an ABA team, I watched Warren Armstrong very closely. Of course the Caps moved after their only season, and I moved to a non-ABA city. I thought I might never see him play again, although I followed his career closely in the newspapers, through several teams and a name change. In 1973 he was 1st-team all-ABA for the Denver Rockets, as well as MVP of the All-Star game. The next season he was also a Western Conference starter in the All-Star game, and then something happened which to my knowledge has never happened before or since in the history of professional sports: the day after the All-Star game Jabali was placed on waivers, and no team picked him up. I was aware of his reputation as a black militant and a troublemaker but this was incredible. I remember reading that he'd done something during All-Star weekend that embarrassed and enraged the (white) owners, and they'd obviously blacklisted him. Shortly after that I read that he'd moved to Africa, and it seemed his career was over.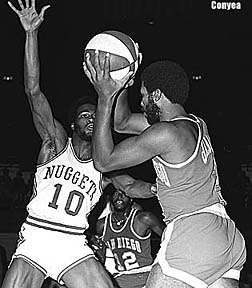 Then, in the fall of 1974 I moved to Los Angeles. Around that time, the San Diego Conquistadors were desperate for a point guard. They tracked Warren down in Tanzania and signed him. I drove down and saw him play several times that season. In the five years since I'd seen him in DC he'd put on weight, and knee and back problems had robbed him of his leaping ability, but he had his moments, and was still a great floor general. I went down for a Nets game in February, looking forward to seeing Dr.J for the first time since his rookie year with the Squires. Going in the "Q's" had a seven-game losing streak, and the Nets had an eight-game winning streak. The only memorable thing about this game's regulation play was that Dr. J scored 45 on a dazzling assortment of moves and shots. In spite of this about half the crowd filed out with several minutes to play and the Nets comfortably ahead. Then the Conquistadors came to life. Travis Grant and Dwight "Bo" Lamar started filling it up from outside, and Jabali started taking it to the hole. I'd long since resigned myself to never again seeing Warren dunk like he used to, but to my amazement, with about 30 seconds left and the Q's down five he drove the lane, took the ball in his left hand, lifted off like a great bird of prey, and threw down a thunderous dunk, getting fouled in the process. That cut the lead to two and a Grant jumper from the corner at the buzzer sent the game into OT.
Dr. J scored 12 more in the 1st OT period, giving him 57, but the Q's hung in there and another buzzer-beater sent it into OT #2. With two minutes left in that period, Doc had 61 and climbing. At this point Warren was in the groove and they decided to switch him onto Erving. The 2nd overtime period ended with another last second shot to tie, as did the 3rd. In the 4th OT the Q's finally pulled away. The final score was 176-166, at that time the highest scoring game in the history of pro basketball. But Dr. J finished with "only" (a career high) 63. In the last 12 minutes of the game, with Jabali guarding him, he managed only a meaningless dunk shot in the final seconds with the game out of reach. Warren scored 19 of his 23 points at the end of regulation and in overtime.
That was Warren's last season. My final memory of him, from the last game I saw him play, is him walking off the court, his tiny son next to him holding his hand. He didn't look like the angry young man anymore. He looked more mature, more at peace with himself and the world. After his career ended I had no idea what happened to him, and I was glad to see that he is alive and was able to come to the Reunion in Indianapolis. I wish I could be there. Certainly he deserves the honor of being named one of the top 30 players in the league. I'm still an avid NBA fan, but I'm not as impressionable as I was when I was younger. Yeah, I know Michael is the greatest player who ever lived, but Hakeem is the only player to crack my all-time favorite five in the last quarter-century. The rest of the team consists of the idols of my youth -- Honeycomb, The Pearl, Doc, and The Rock -- Warren Jabali."
MEMORIES OF JOE HAMELIN: "It wasn't Warren Jabali who 'stopped' Julius Erving the night Erving scored 63 in the San Diego Sports Arena. By the 4th (and last) overtime, Erving was playing on a bad ankle sprain, and even I could have guarded him. I know, because I was there, covering the game for the San Diego Union. It was the damnedest game I ever saw. My editor told me before the game to hold my piece to 7-8 paragraphs. I remember calling every 10 minutes, begging for more space. Travis Grant forced the first overtime with a baseline 20-foot fallaway, Bill Melchionni provoked the next one with a three-pointer, and Brian Taylor the one after that with another three-pointer.
After the Q's found Jabali in Tanzania, I interviewed him the night his plane landed in San Diego. Went to his Mission Valley hotel, knocked on his door. Frankly, I remember shaking in my shoes, thinking what he might do and say, given his militant reputation and the fact that's he'd been in the air for about 40 hours. It wasn't just that he was a "militant." He'd actually stomped on a player's head during a brawl on the court a few years before. He was cordial, however, and all went well. He was overweight and out of shape, but time had been good to him in other ways. He'd mellowed some.
Wilt Chamberlain may not have done much coaching in San Diego, but he was a lot more agreeable than others seem to remember. I have the odd distinction (?) of being the only writer to cover teams coached by both Wilt (the Q's) and Bill Russell (the Sacramento Kings) -- and I'd take the Dipper in a heartbeat. Win or lose, he was always pleasant to deal with, always answered the questions, and always returned phone calls (on his own good time, of course). Once he called me at home (from Virginia, as I recall), because there was a negative story in the paper there. He assumed it was a wire-service rewrite of something I'd written. I still remember my wife cupping the phone and saying "It's Wilt Chamberlain" and me saying "Nah." Wilt proceeded to scream at me for five minutes while I kept saying "but...but...but..." I finally bellowed, "I DIDN'T WRITE THE STORY!!" There was an awkward little silence, and he finally said in a soft little voice, "Oh. Well. How's the weather out there?"
I remember, about four or five years after the merger, writing a piece noting that 40 percent of the ABA players at the time of the merger were still in the league, more than double the percentage of NBA players. I believe Caldwell Jones was one of the last ABA vets to quit. In the late 1980s, when I was a columnist in Sacramento and Caldwell was a Portland Trail Blazer, he noticed me at the press table while he was warming up. He cocked his head as if remembering -- it had been a decade -- and walked over to me and stuck out his hand. I'll admit I was touched.
Anyhow, it was pretty good stuff, that league. The writers who covered the ABA considered it our little secret."
MEMORIES OF TIM BASSETT (Q's player, 1973-74 through 1974-75): "A story that comes to mind for me was the night in Indianapolis (March 15, 1974) where I set the ABA record for offensive rebounds in one game. Wilt decided to take me out when they announced I had tied the record with 17 rebounds. But the guys on the team kept telling him to put me back in. He reluctantly did, saying "Go ahead son, that record will be mine as soon as they let me play." With around two minutes left in the game I was lined up next to Roger Brown for a free throw. Roger told me: "I can't let you break that record on us." But as he spoke, Caldwell Jones shot the free throw and missed, and I was able to get the ball for the record. When I came off the court, Wilt said "Great job my man, you remind me of me, when I was at Overbrook High School."
I also remember that drill during which CJ dunked over Wilt in practice. I was in line in front of CJ, and was knocked out by Wilt in my attempt to dunk over him. Actually, there were a number of confrontations between Wilt and CJ in practice over whether CJ blocked or goaltended Wilt's fingerroll.
Finally, that 4 overtime game against the Nets. I was injured and doing the broadcast on radio. We had just picked up Scott English from the Phoenix Suns and it was his very first game in the ABA. English had not really seen Dr. J before. The Doctor greeted him with a dunk off the opening tip on his way to his 63 points. As hot as Doc was in that game, I'm kind of glad I was injured that night. I also have lots of Nets memories, including Dr. J preparing for the slam dunk contest in the last All-Star Game in Denver. The ABA was a great league with great players. Many of them finally got to show their wares on the big NBA stage. I was proud to have played in the ABA."
MEMORIES OF CHUCK FREEMAN: "I grew up in San Diego and graduated from Morse High. I remember the Rockets leaving town for Houston and being very happy when the Q's came into being. Their first year was my senior year in high school. My buddies and I used to go to Peterson Gym to watch them play. The tickets may have been $3 for General Admission. But here is what we did (the statue of limitations have long expired). We would buy two tickets and the guys who got in would open the side door so the others could get in. Trust me, there was no such thing as tight security or crowds at an ABA game in San Diego!
We got to see Julius Erving in the ABA long before the rest of the world knew who he was. He was great in the NBA. But believe me, in the ABA in his early 20s before he had any knee problems, he was truly spectacular! And what was even better than the games was the style of the players both on and off the court. Yes, we rooted for the Lakers but the Q's were really our team. In fact, when I came home for Christmas in '73 on military leave, my brother and I got Wilt Chamberlain's autograph after a game at Golden Hall. Then, many years later, I used to read Wilt's electric meter at his Bel-Air home and got a chance to speak with him on several occasions.
As someone who remembers the Chargers (best uniform of all-time by the way) playing in Balboa Stadium as an AFL team, and the Padres when they were a minor league team, the Q's bring back fond memories of a much simpler time."
MEMORIES OF AL HERRE: "In 1975 I went to a Q's game against the Memphis Sounds. The game was at the San Diego Sports Arena. The capacity of the Arena was around 14,000, but there were maybe 500 people in attendance. Very quiet during the game! I was a teenager at the time and I was allowed to participate in the shootarounds with both teams (imagine that). Taking shots with Billy Shepherd and Lee Davis, totally cool! At halftime there was a free throw contest. I stepped up to the line and swished my free throw. About 20 people cheered. I won a Ringo Starr album -- "Goodnight Vienna" was the title, sheesh! But it was a special day for me nonetheless. I really loved the ABA."

Back to Main Page