ABA Pacers Fan Memories (Page 2)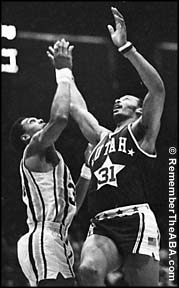 MEMORIES OF TIMOTHY IDEN: "Do I remember the ABA? When I was a boy growing up in Muncie, Indiana I thought it was the ONLY professional basketball league. I had heard of the NBA and the mighty Celtics but they may as well have played on Mars at that time. The Pacers were right there in my back yard and the dreaded Colonels were right down the highway in Louisville. My dad took me to many Pacers games at the old Fairgrounds Coliseum. Pacers games were on radio from Indy and local TV carried them quite often, especially if they went just down the road to Kentucky. I had an official red, white and blue ball that I got from a gas station promotion. I played with that ball until it literally fell apart. It was as slick as a cue ball and could hardly hold any air by the time I was through with it. I bet I took thousands of three-point shots with it in my playing days. Billy Keller was my hero, an idol of sorts, right up there with Pete Rose, Bob Gibson, Johnny Bench, Ernie Banks, and Bobby Hull. My other favorite Pacers were Bob Netolicky, Roger Brown, Freddie Lewis, Mel Daniels (pound for pound the best rebounding center I have ever seen), "Big Mac" George McGinnis and even Coach Slick Leonard himself. The thing I remember best about the ABA is not just the fact that it was a real "hometown" league which made you feel close to your team. The ABA was also flashy, colorful, exciting, and high scoring. A 145-138 game was not uncommon. Today the typical NBA team might break 145 in two games. Does anyone think it's worth $50 a seat to watch that? Back in 1970's, $10 got you in to see "Big Mac" vs. "Dr. J" with enough change left for a hot dog and Coke. I feel sorry for today's kids -- they will never know how much FUN pro basketball can be. The ABA wasn't a sissy, long hair league either like some old NBA writers will try to tell you. Guys like Warren Armstrong (Jabali), Billy Paultz, John Brisker, and Coby Dietrick were among the league's notorious "thugs." At times an ABA game could be as physical as a hockey game. But at other times the same game could be graceful and simply awe-inspiring. I remember watching players like George Carter, Mack Calvin, Roger Brown, Louie Dampier, Julius Erving, and of course Keller simply filling the nets and lighting up the arena just like flipping on a switch. And I'd give anything to see a tape of Mel Daniels and Zelmo Beaty (above right) battling under the boards again. It was pretty close to an Ali-Frazier fight at times, and it was just as wonderful to watch. God bless those guys."
| | |
| --- | --- |
| | |
MEMORIES OF JOHN DELANE: "In the 60's and 70's, Indianapolis was a town trying to become a city. The ABA and the Indiana Pacers gave us a taste of being in the big leagues. Or as close as it got in the early days of the ABA. If I had to think of one moment that defined the ABA Pacers, it had to be a 1971 exhibition game the Pacers played against the NBA New York Knicks at the Coliseum. Both teams were among the elite teams of their respective leagues. The Pacers played their starters only about twelve minutes in the first half, and were losing by a fair margin at halftime. When the second half started, the Pacers had two rookies on the court: George McGinnis and Darnell Hillman. The Knicks didn't have any of their starters in. At first, the score didn't change ... But suddenly, the Pacers started to blitz the Knicks... In came all the Knick starters. A few moments later, Willis Reed powered to the basket for an easy dunk. But a skinny kid (with an afro at least 8 inches higher than his own head) blocked Reed's shot with TWO hands. Then Hillman blocked him again. The 9,000 or so fans who were packed into the tiny Coliseum erupted in the loudest explosion of delight I've ever heard at any sporting event. The Pacers finished the game with their bench (along with McGinnis and Hillman), and the Knicks played most of the fourth quarter using their 5 starters. The Pacers lost 98-96, but they had shaken the very foundation of the vaunted NBA (at least in the minds of Indianapolis residents). There were many wonderful moments in the ABA...but this one sticks out pretty vividly in my mind."
MEMORIES OF GARY HARDY: "As a boy growing up with the ABA Pacers, I had the pleasure of regularly watching Roger Brown in action. When he passed away recently, I was reminded of his greatness, especially in one-on-one situations with the game on the line. Before the Pacers figured out how to incorporate the three-point basket into their regular offense, he was their three-point play: Just clear the lane for the "Rajah" to go one-on-one, make the lay-up, and draw the foul. The ABA Pacers showed themselves to be a real fraternity in the weeks leading up to Brown's recent death. They visited him, donated their own money, and helped with fundraisers. Somehow, I can't imagine today's NBA multi-millionaires ever showing the kind of class and concern that Roger Brown's mates did."
MEMORIES OF RUSSELL CONGLETON: "I was an ABA fan from its early days right through to the league's quiet end. I grew up in rural western Indiana, and my team was the Pacers. On my backyard court I played with a red, white, and blue ball from the local Marathon Gas station. I "was" Mel Daniels dominating the glass and Roger Brown knifing through the defense and Neto burying the baseline jumper and Freddie Lewis calmly running the show and John Barnhill or Billy Keller or Rick Mount hoisting long three-pointers, and, later, George McGinnis overpowering the defense. But my own peculiar favorite was the high flyer on the front line, Darnell Hillman. Hillman had absolutely remarkable spring. He was by no means the best player on the Pacers, but his acrobatic leaps still come to mind when I watch ABA game films on Classic Sports Network. Even today when I see the Pacers play I remember those ABA heroes of my childhood and remember them fondly."
MEMORIES OF TOM JULIAN: "I get nostalgic when I remember going to the State Fairgrounds Coliseum (BARN) in Indy in the 60's and 70's. George McGinnis and his one-handed free throws. Every kid in Kokomo, Indiana shot them in the driveway after school. We had red, white and blue balls and shot from the grass and back porch. We shouted "Downtown Freddie Lewis" or "Billy Keller for threeeeeeee" as we released the shot. Then we would lower the rim or jump off stepladders and slam like McGinnis and Dr J.
The Fairgrounds Coliseum was often so cold that we wear our coats the whole game. I stood by the court and Artis Gilmore was so tall to a 8-year old that I had to lean back to see his huge sideburns and fro. The Pacers were pro basketball to an Indiana kid born in 1961, and will always be my favorite basketball team.
I don't watch the NBA today and would not pay to see a game or take my sons. But if it were possible, I would certainly pay $100.00 a ticket to put them in a 1965 Ford Squire station wagon and drive 50 miles in the snow to sit in a barn with my coat and gloves on to watch underpaid players play exciting basketball. No question the ABA was the right league at the right time for real basketball fans. Ask any 43 to 49 year old Indiana kid "who played for the Pacers?" and they won't say Reggie Miller, Jermaine O'Neal, Mark Jackson, etc. Instead they will say Mel Daniels, Big Mac, Billy "the Kid" Keller, Freddie Lewis, etc."
MEMORIES OF RON HANNAH: "In January of 1974, my grandfather took me to see the Indiana Pacers play the Carolina Cougars at the Fairgrounds Coliseum. It was the first professional sporting event I ever witnessed in person. I'll never forget the old Coliseum. It was all dark and smoke filled. Nothing like you see nowadays. I remember being very disappointed because Billy Cunningham was injured and did not play for the Cougars. But that was the night that "Big George" McGinnis set an ABA record for rebounds (37 of them). He must have known about the record in the second half. Late in the game he had a breakaway layup. With his big hands, Big George bounced the ball off the backboard with one hand, and then put it in (for the extra rebound)."
MEMORIES OF MARK UNDERWOOD: "I grew up here in Indy. I had Roger Brown's son in my class, and watched a lot of Pacers games -- including the '72 exhibition game against the Suns -- on WTTV Channel 4. My best memories are of going to the "Billy Keller Basketball Camp" in the summer of '75. I got to watch a "half court" shooting contest between Keller and Billy Shepherd (best of 10; Keller made 3 and Shepherd made 2). I heard stories and saw a blurry Polaroid showing how Darnell Hillman bent the rim during the previous week's session. The second to last day of the camp, an older kid snapped me in the eye with a wet towel. I ended up going to Billy Keller's room to be checked by the camp trainer/doctor. I remember that Keller's room was a pig sty of empty beer cans and overflowing ashtrays. At the camp awards ceremony, we all got 45rpm records of the "Ballad of Billy Keller." The records had a tribute to Keller's pure "milk-drinking" values. This all seemed a bit strange to me since I had just seen his room!"
MEMORIES OF DAVE FACER: "I was in high school in Salt Lake City during the Stars' tenure, and we had season tickets for every year they played. The player I liked the best, though, was a member of the (hated) Indiana Pacers: George McGinnis. He had this terrific one-handed jump shot that I still describe to people. I haven't seen anything like it since. He would literally pick the ball up from his dribble with one hand. As he jumped, he would hold the ball with his wrist cocked. Then he would let the ball fly with a soft flick of the wrist. Amazing! There is a photo on the web site (below) that shows that shot (one frame of it, anyway!). Big George was something else."
MEMORIES OF DAVE TELLMANN: "I have two Pacer Memories. I went to St. Christopher's school on the west side of Indianapolis. I don't know how many basketball practices my coach had to cut short. He made us run "suicide sprints" because we would always try shooting one-handed free throws like George McGinnis. I also remember going to Slick Leonard's restaurant in town. I remember meeting Coach, but I remember his wife more. She had on the loudest pair of black and white checkered pants I have ever seen. They could have used those pants to wave the winner at the 500."
Game Action: 5/15/1975 Indiana Pacers at Kentucky Colonels: ABA Finals Game 2--End of Regulation
(streaming RealAudio File -- copyright Van Vance/WHAS-AM and used with permission)
MEMORIES OF TOM PARIS: "The ABA was an important part of my growing up. The Pacers were my ABA team and the Lakers were my NBA team. To this day, I still think of both franchises that way. I lived in Salem, Indiana, which is 30 miles north of Louisville and 100 miles south of Indianapolis. As a result, I was able to watch both Indiana and Kentucky on television, and I was lucky enough to attend some Colonels games.
My favorite game was a 1975 playoff game between the Pacers and the Colonels. I was a member of the Salem High School band and we got to play at the game. We sat almost directly under one of the baskets. In that game, George McGinnis went into the crowd after a loose ball and some idiot shoved him. McGinnis was one of the strongest looking players I had ever seen and he drew back as if he was going to hit the guy -- but some other players restrained him. The night was topped off when Billy Keller heaved the ball right at the basket I was sitting under -- from the other half of the court. It went in for the win. But the referees stole the game from the Pacers and said the shot came after the buzzer. I can still remember seeing that red, white and blue ball flying in the air right at us and swishing through the net. Slick Leonard and the players went crazy. I was at IU when they won the 1981 NCAA National Championship, and I have seen many great basketball games in my life. But that 1975 ABA playoff game is still the greatest (and most thrilling) game I have ever seen."
MEMORIES OF TIMOTHY GASSEN: "I lived much of my teenage years in the mid- to late-1970's at Market Square Arena in Indianapolis, most often at the very top of the arena with friends, banners and noise-makers in support of our WHA Indianapolis Racers major league hockey team.
We followed the ABA Pacers in a round-about way – when the Racers were on the road, we'd go to Pacers games and sit near the court. It was the opposite of our normal view of MSA from the rafters, and it allowed us to see the fast-breaking ABA style up-close: really short shorts, really big hair and really fast action! I loved the fast pace of ABA games, and my absolute favorite visiting team was The Nets with Dr. J. Besides being perhaps the greatest ABA player of all time, as a 14 year-old I remember thinking he had the greatest afro haircut of all time! He would leap for a dunk and his hair was so large that it would smash down and cover his entire face as he moved upward, and then as he returned to Earth it would fly straight over his head like puppy ears. His graceful, powerful style and acrobatic dunks were simply unforgettable. And as an opposing player you know he had to be good to make such a lasting impression on a hometown teenage fan!
I'll also never forget the 1975 ABA Finals game against the Kentucky Colonels where a last-second heave seemed to win the game for the Pacers – only to be overturned by the refs. Video replays showed the shot was good before the clock ran out, but the game was lost. Such emotion, from elation to utter despair, all in one second. The Pacers didn't recover from that, but the team did make it to the NBA in the merger. Interestingly, many fans were disappointed with the more conservative style of the NBA, and my beloved hockey Racers actually out-drew the NBA Pacers at the gate in 1976-1977. Of course it's great that The Pacers have survived to today, but I don't know how they will ever top their championship ABA years, that wonderful red, white & blue basketball, and the positive vibe at Market Square Arena. Long live the memory of the American Basketball Association!"

Back to Main Page