The ABA Way: For Pure Entertainment, American Basketball Association Was a Slam Dunk
By Michael Murphy
(article first published in 1996 in the Houston Chronicle, reprinted with permission)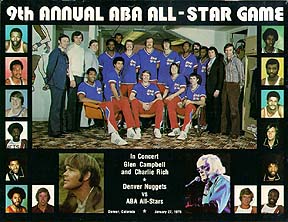 It was supposed to be the All-Star game to end all All-Star games. And in many ways, it was.
When the American Basketball Association threw its ninth and last All-Star bash in 1976, the league was determined to make it a showcase that would be remembered and talked about for years to come, and perhaps hasten a merger with the established NBA.
The idea was not only to provide a real All-Star game, but to make an entire weekend of it, including a concert by Glen Campbell and Charlie Rich. But it was one innovation, the fruit of a long brainstorming session, that would prove to be the most memorable addition to the 1976 ABA All-Star game.
A halftime slam-dunk contest.
"We were sitting around the office one day, discussing things that would draw more people, and it just came to us -- let's have a dunk contest," said Jim Bukata, former director or marketing and public relations for the ABA. "That's really where it came from -- three guys (Bukata, Denver general manager Carl Scheer and ABA finance director Jim Keeler) talking about what we could do to sell a few more tickets."
It was one of those serendipitous decisions that was typical of the ABA, a maverick league that seldom planned anything too far in advance. The league that "just decided" to have a red, white and blue basketball and "just decided" to have a 3-point line had just come up with an idea that Sports Illustrated would call "the best halftime invention since the rest room."
It was an act born of desperation, but desperate times demand desperate measures. And the ABA was in decidedly desperate times.
The league, which started with 10 teams that season, was in its death throes, having been whittled down to seven by the time the All-Star game rolled around. With the All-Star game already slated for Denver's new McNichols Arena, it was decided that the team in first place by the All-Star break would be the home team for the game, playing against a collection of All-Stars from the other six teams in the league.
And everyone in the league prayed the Denver Nuggets would be that first-place team. As luck would have it, that's exactly how things worked out. Now, how to make the NBA stand up and take notice?
"We had to come up with a concept that would get everyone's attention," Scheer said. "We were in serious trouble. We knew that it was our last year and we had to make a big impression. We felt the All-Star game was our big showcase -- our swan song, so to speak. We needed to have something dramatic to show the world, and the NBA, that our product was worthwhile for their league. We had to show that we had great players, great ideas, and great contests."
But a dunk contest?
"We actually got the idea from Julius (Erving) in a roundabout way," Bukata said. "We had a guy named Jim Keeler, who was African-American, who handled the business affairs for the league. Julius used to kid him all the time, saying, 'I'll bet you're the only black guy involved in the ABA who can't dunk.' And it kind of came in some way off that.
"It was Julius really giving us the idea that we're the league of the dunkers. So we said, 'Well, if that's the case, let's have a contest.' It really was as simple as that."
The contest matched Artis Gilmore, the 7-2 center for the Kentucky Colonels; George Gervin, a 6-7 guard for the San Antonio Spurs; Larry Kenon, a 6-9 forward who was a teammate of Gervin's with the Spurs; David Thompson, a 6-4 guard for the Nuggets; and Erving a 6-7 forward for the New York Nets -- "five of the most talented, colorful players in basketball, all with a flair for that sensational slam dunk," as announcer Al Albert told the crowd of 17,798 in attendance, with dunks judged on "artistic ability, imagination, body flow as well as fan response."
While Gilmore, Gervin and Kenon put on a good show for the fans, everyone in attendance that night knew it was going to be a showdown between Erving and Thompson.
"People were excited about the prospects of seeing myself, Dr. J, Gervin and some of the other guys who were involved in it," Thompson said. "but, yeah, I guess we pretty much felt the same way going in -- it was going to come down to Doc against me."
And even though Thompson wowed his Nuggets teammates and the decidedly partisan crowd with his array of gravity-defying dunks -- a windmill cuff slam, a two-handed jackknife reverse (above middle) and the first recorded 360 dunk (above right)-- it was Erving who stole the show.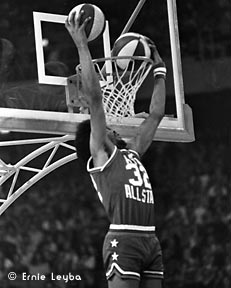 For his first dunk (left), Erving stood underneath the basket and dunked two balls at once.
But his second was the one that will always be remembered. One of the contest rules said that a dunk had to be made from a hash mark three feet inside the free throw line. Erving decided to take it an extra step.
Three extra steps, to be exact.
When Erving jogged to the free-throw line and then began to measure his steps back in long, loping strides, the crowd went into a frenzy, as did the players sitting on the sidelines.
"It was unreal," said St. Louis All-Star Ron Boone, now a television commentator for the Utah Jazz. "First of all, it (the contest) was the first of its kind, which made it so exciting to watch. I was one of those guys who could jump pretty well -- I had a pretty good set of legs on me. But these guys, they took dunking to another level, man.
"Everyone was bringing the house down. Everyone was, 'Oooh, ahhhh.' Then when it came to Julius' time and he walked up to the free-throw line and started marking these steps off, going back to the other end of the court. Well, you knew what was coming -- 'Oooh, he's going to take off from the free-throw line.' Everybody was on the edge of their seats watching. The anticipation was great.
"Then he went and took off (below). His (Erving's) afro was big then, and it was blowing.
"He went up and threw that baby down and the crowd went crazy."
While Erving had some reservations about taking off from the foul line, particularly since it was at halftime of a game when players are winded and the legs are a bit tired, it was an opportunity he couldn't pass up.
"Here was my philosophy -- dare to be great," Erving said. "Nothing ventured, nothing gained. I always like to take chances every now and then, and this was taking a chance because back then you didn't have the spring-back (breakaway) rims. You had a rim that if you didn't get above it, and dunk the ball through the right way, the rim would throw you to the ground. Not only that, but it would throw your shot back to halfcourt or throw it out of bounds.
"With that rigid rim with no spring-back connection, you had to bring the truth in. That made a difference. There were a lot of guys who didn't even attempt to dunk because they had been thrown, like getting thrown off a wild stallion.
"I just wanted to make a nice, soaring play that would get the fans out of their seats. I really started going at halfcourt and got a good running start and made sure that I made the shot authoritatively."
It was a moment that is forever frozen in time. Indeed, when he took one last long stride and thrust himself into the mile-high air in Denver that night, little did Erving realize that he was leaping not into basketball history, but into basketball lore.
---
Like the most arcane history, the tales of the ABA are handed down by word of mouth. There was no ESPN with SportsCenter highlights. No CNN. Not even a national-television contract of any substance, which leaves much of the ABA stuck in the deep recesses of memory.
Even with the 1996 All-Star game being played in San Antonio -- home of the Spurs, one of the ABA's greatest success stories -- there is little to remind one of the days when the red, white and blue ball was the only game in town. The Spurs now play in the antiseptic, cavernous Alamodome, about as far removed from the old, cramped, claustrophobic rowdiness of the Hemisfair Arena as one can get.
The Alamodome is very much like the NBA -- bigger than big, but distant and unapproachable. Basketball on Broadway. Hemisfair Arena was very much like the ABA -- community theater where a small, but talented, group of the underappreciated artists got together for a little improvisational work.
Hemisfair Arena was home to the Baseline Bums, a group of hard-core fans who, after soaking up as much Lone Star beer as possible, reveled in making life miserable for opposing teams.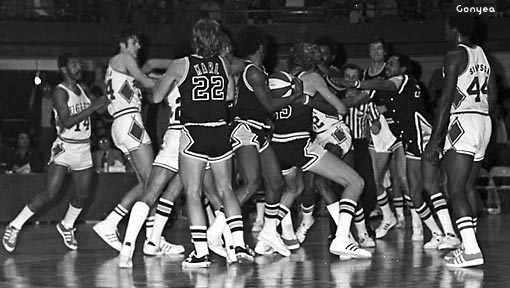 "It was fun playing in San Antonio," Thompson said. "They always had a rowdy crowd down there. San Antonio and Denver was kind of a big rivalry because they were close together and they had a few guys who used to work with each of the franchises.
"(Denver coach) Larry Brown made the big statement that the only thing he liked about San Antonio was the guacamole salad. And the next time we came down there the people were throwing avocados out on the floor and dumping guacamole salad on the players. When Larry went to the locker room, they had something like dime beer night that night, so they were pouring beer over Larry's head. That was pretty wild."
Gus Gerard, who spent two years in the ABA with the Spirits of St. Louis and the Denver Nuggets, also thought San Antonio was one of the best arenas in the league.
"I remember always going to San Antonio to play and they'd have the dime beer night and they'd have the Baseline Bums," said Gerard, now a counselor with the Complete Treatment center in Houston. "Man, they'd just torture opposing teams. It was a wonderful place to play because it was real warm and you'd get a good sweat going immediately and you always had a good crowd there.
"Gervin and James Silas, who was a great player, would just turn the crowd on. There was a big rivalry with Denver there. They had the guy on the PA there and he would say 'Let's bring them out,' and they'd be playing that country-fiddle stuff and let everybody get crazy. The (the San Antonio fans) would start throwing beer around at us."
Those anecdotes pretty much sum up the ABA. If you want to know about the NBA, you pick up an NBA Guide and pore over the records and the statistics. If you want to know about the ABA, you gather a few survivors together and allow the stories to flow. The games. The antics. But mostly, the players.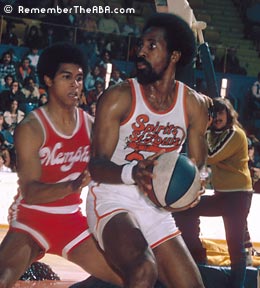 And there were some memorable players.
Sure, it was the league that introduced the professional basketball world to the likes of Erving, Gervin, and Thompson, but also to guys like Les Selvage of Anaheim, who once hoisted 26 three-pointers in a single game. And then there was Stew Johnson, a 6-9 gunner and former Houston Maverick who became the very definition of streaky when he averaged 31 points over one two-game span -- zero points one night and 62 the next.
And Marvin Barnes of St. Louis, the outrageously talented player for whom no rule was made that he could not break. Or Wendell Ladner, whose intensity was such that his teammates hated practicing against him for fear of injury.
"If you talk to any of the players who played in the ABA, even if you haven't seen them for awhile, they can give you recollections of players they played with, the moments they had and struggles that we all went through," said Steve Jones (#23, at left), now a broadcaster for the NBA and the Portland Trail Blazers. "The highs and lows, the joys. And in a situation where survival is important, I think it brings everyone together. You can take any situation in life and if you put people in a survival situation where today you don't know where you're getting a check, tomorrow we don't know if we're bouncing a ball, then everyone's going to pull together.
"There were some painful moments. There were a lot of fights and bitter moments, but for the most part, everyone was together because we were fighting to get recognition -- fighting to show that this basketball was just as good as any basketball being played anywhere, and just because someone didn't say so didn't mean that it wasn't. We just played a different game."
---

Indeed, from the very beginning, the ABA was different, and not just because of the red, white and blue ball. The NBA at the time was strictly business, a slowdown league dominated by big men. The ABA, with its mid-sized players, was an above the rim playground game.
The ABA was officially born on February 2, 1967, with Houston (Mavericks), Pittsburgh (Pipers), Minnesota (Muskies), Indiana (Pacers), New Jersey (Americans), New Orleans (Buccaneers), Dallas (Chaparrals), Anaheim (Amigos), Oakland (Oaks) and Kansas City being awarded charter franchises. The league awarded an 11th franchise to Kentucky (Colonels) on March 5 and one month later approved the transfer of the Kansas City franchise to Denver (Rockets).
The idea? The owners, taking note of how the American Football League forced a merger with the NFL, had the same idea with the ABA.
The ABA went through it growing pains, enduring regular franchise shirts and constant ownership changes, which caused most NBA hard-liners to look down their noses at the new league, viewing the players as untalented rogues who could not cut it in the NBA.
"The (lack of) quality is really blown out of proportion," said former Indiana Pacers forward Bob Netolicky. "You can go back to maybe the first year when there were some scruffy teams, but the NBA also had some dogs. That Philadelphia 76ers team back in 1972 (that finished 9-73) couldn't beat a good grade-school team. They were pretty bad. Compare that to us.
"The disparity between the leagues was blown way out of proportion. There wasn't that much. After the third year it was pretty close."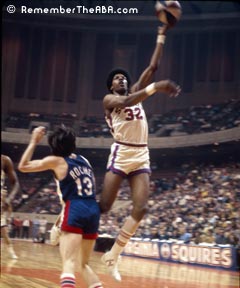 One need look no farther than the Virginia Squires, a perpetually struggling team that had a knack for finding talent. Over the space of three years, the Squires had Erving (left, #32), Gervin, Charlie Scott, Rick Barry and Swen Nater on the roster and had Dave Bing under contract -- but sold, traded or just lost every one of them. But it did say something about their ability to spot, and sign, talent.
"We were very impatient," said Red Kerr, former vice president of the Squires who now does commentary on Chicago Bulls television games. "We didn't think that building through the draft was going to be very good because you knew you'd be competing with the NBA for players. So if there was a player out there, we just decided that you'd go out and get him, sign him to a contract and strengthen your team."
Players like Erving, who left the University of Massachusetts after his junior year, and Gervin, who quit college at Eastern Michigan after he was suspended from the basketball team following a fight his sophomore year. The NBA at the time would not allow underclassmen to play in the league, but the ABA had no such rule, and used it to its advantage to corral talent.
Some actually preferred the ABA to the stodgy NBA.
"We considered ourselves rebels," said former Squires guard Charlie Scott, now a representative with Champion Sporting Goods. "And not only that, but the NBA guys would play and afterwards they'd all go their separate ways. We ABA guys, after we played, we all went and partied together because we were all in the same thing. We all had one common goal -- to make this thing work.
"Even though we played each other, it was the idea that all of us had to be together to make this thing work, so I think there was more camaraderie outside of the teams among the players themselves."
Gervin agreed.
"Not only did Julius Erving and I play on the same team, but we used to practice against each other," Gervin said. "After practice we used to go one-on-one all the time because we wanted to get better. When I first came to the Virginia Squires, Julius kind of took me under his wing. All we did was play. We were young guys coming up who loved the game.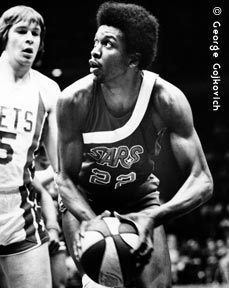 "The ABA was a log of young kids coming up. I was 19 when I came in, and we had a lot of 20-, 21-, and 22-year-olds, so you had a lot of kids in the game."
The ABA took that notion to the extreme when it signed the ultimate underclassman -- a skinny, 6-11 kid from Petersburgh (Va.) High School named Moses Malone (right, #22). Malone played two years in the ABA, averaging 17.2 points and 12.9 rebounds for the Utah Stars and the Spirits of St. Louis. The signing created an uproar at the time, but there were no apologies offered by those connected with the ABA.
"There were a lot of guys in the league that people didn't know about," said former Nuggets coach Larry Brown, now with the Indiana Pacers. "A lot of people didn't know that much about Moses. Everybody said he wasn't ready because he was too skinny and not physical enough, but I remember one game where he got 32 points and 18 rebounds against us in Denver. And that was the year we won 65 games (1975)."
That was the kind of talent at work in the ABA at the time. That talent didn't always translate into seamless team play on the floor, though. Witness the Spirits of St. Louis, who, over a two-year period, had players like Barnes, Maurice Lucas, Steve Jones, Gerard, Caldwell Jones, Don Chaney, Ron Boone, M.L. Carr, Freddie Lewis, Malone, Barry Parkhill and Don Adams, yet complied just a 67-101 record over that span.
Watching it all and announcing the games over KMOX radio was a kid named Bobby Costas, fresh out of Syracuse University.
"I kind of knew right away that our team was a little unique," said Gerard with a laugh. "It was like a guard a day. Every day we had new players coming in to try out. This lasted the whole season, and I mean three or four guys every day to try out for the team. And then we'd see places like Denver, which was doing real well. I kind of knew our situation was unique, if only because of all the rookies we had.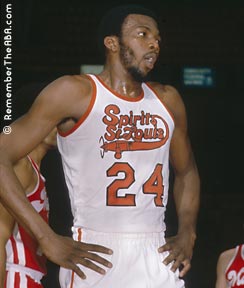 "Marvin (left, #24) was the type of guy who would just disappear for days. There was one time where he missed practice for couple of days, but showed up in the locker room before our next game wearing his uniform under a full-length mink coat and a bag of cheeseburgers under his arm. Marvin had something like 52 points and 30 rebounds in that game.
"Steve Jones was on the team and he'd be saying, 'This is the craziest thing I've ever seen.' And Joe Caldwell (a two-time All-Star in each league) was losing his mind, so I knew this wasn't quite the norm. We were different, but it was a different time."
Could a league like the ABA exist today? Some believe that with the cable television explosion, another league could easily be supported. But others have their doubts.
"It woudn't work today because the climate of the country isn't to challenge the establishment," Jones said. "It's not 'try anything.' Once Kennedy was elected and once the civil rights movement really took hold, the whole country changed and the attitude about what you could do and how you could do it changed as well.
"Until we see another revolution, then you're not going to see sports turned upside-down like the AFL and the World Hockey Association. We had all those leagues that were just starting out at that particular time. The ABA was one of those. Could we have another league? Sure we could. But what would it require? Ownership with deep pockets and a real resolve to establish themselves against a very strong NBA."
---
Erving's duel with Thompson that night in Denver did as much to bring about the merger between the ABA and the NBA as anything else, even though the actual game and halftime dunk contest was witnessed only by those in attendance and people who stayed up long enough to watch the syndicated telecast that ended past midnight Denver time.
"No, not a lot of people saw it," Bukata said. "But the reason it had that kind of impact was the next morning on the news shows like the Today Show, everybody showed it. That was really the start. More people saw those than saw the game."
And with the public clamoring for new superstars in the wake of retirements by players like Wilt Chamberlain, Jerry West, Elgin Baylor, Oscar Robertson and Willis Reed, a merger with the ABA was the opportunity for the NBA to pick up some new blood.
"The reality is that infusion saved the NBA at the time," Jones said of the 1976-77 merger. "Dr. J was considered a principal piece (of the merger), but when you look at all the players who came in like Gervin, Thompson, Artis, (Indiana's) Billy Knight and guys like that, just when the NBA was losing the Wests, the Robertsons, the Baylors and the Chamberlains.
"All those guys had now gone out, so where was the next crop of talented young stars going to come from? They came from the ABA. It's never been given proper credit that it should have been given at the time for giving the NBA a shot in the arm of young talent that they weren't getting in the draft."
The NBA allowed just four teams -- Denver, San Antonio, New York (now New Jersey) and Indiana -- to enter the league. The rest of the ABA players were dumped into a draft pool, where they were chosen by other NBA teams.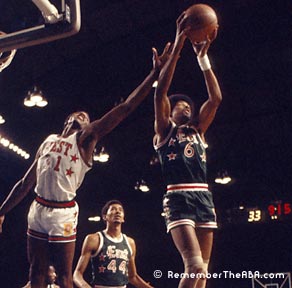 And it was the ABA players who got the last laugh. For years they had to listen to people like Boston's Red Auerbach and Golden State's Franklin Mieuli talk about how inferior the ABA talent was, but in the 1977 NBA All-Star Game, nine players were from the ABA. And the game's MVP was Erving (right, #6, along with #44, Gervin - each playing for the 1976-77 NBA East All-Stars).
Of the top 20 NBA scorers for the 1976-77 season, nine were former ABA players, with Indiana's Knight (26.6 points), Denver's Thompson (25.9), Gervin (23.1) and Denver's Dan Issel (22.3) among the top 10. Of the top 10 rebounders, six were former ABA players. Indiana's Don Buse led the NBA in assists (8.5) and steals (3.47), just ahead of another ABA refugee, Kansas City's Brian Taylor at 3.18).
Gilmore, selected by Chicago in the dispersal draft, immediately turned the Bulls into championship contenders. Portland won the title with the addition of Lucas and Dave Twardzik. The Nuggets won the division championship that first year and San Antonio won five division titles in six years.
Call it vindication.
"I'm just thankful it was there for me," said Gervin of the ABA. "Especially where I came from. I was able to play pro ball, and I'm thankful to the ABA for that. I'm also thankful to the guys who came out of the ABA, all the guys who had something to prove. That's a helluva bond -- for all of us to come out and say, 'We're going to kick some butt.'
"And we did, too. Big time."