San Diego Conquistadors

Years of existence: 1972-73 through 1974-75
Colors: Yellow & Red
Home Arenas:
1972-73: Peterson (San Diego State) Gymnasium (3,200)
1973-74: Golden Hall
1974-75: San Diego Sports Arena (14,400)
Exterior 1 | Exterior 2
Coaches:
1972-73: K.C. Jones
1973-74: Wilt Chamberlain
1974-75: Alex Groza & Beryl Shipley
---
Back to "Remember the ABA" Main Page
Did you see a San Diego Q's game? Or, did you have a favorite ABA Q's player? Contribute to this web page by describing your favorite Q's memories.
The San Diego Conquistadors (the "Q's" to their loyal fans and sportswriters) were an ABA rarity: an ABA expansion team. Their players for their first season (1972-73) were unprotected players taken from other ABA teams in a special expansion draft. Given the talent available in this pool, one national basketball publication predicted that in their first season, the Conquistadors would be "the worst team in organized professional basketball history."
As always, however, the ABA was anything but predictable. The Q's weren't all that bad (well, not as bad as people thought they would be) and actually made the playoffs in that first year (barely beating out the established Dallas Chaparrals for the last playoff spot). While they were swept in the first round by the Utah Stars, the season was still regarded as a success. The Q's coach was K.C. Jones (yes, the future coach of the World Champion Boston Celtics), and his players were Chuck Williams, Stew Johnson, Austin "Red" Robbins, and George Adams.
The team's most pressing problem did not stem from its supposed lack of talent. San Diego's owner, Leonard Bloom, had a personality conflict with Peter Graham, proprietor of the city's brand new 14,400 seat Sports Arena. Graham was angry that the ABA had granted the expansion franchise to Bloom and not him. Graham retaliated by refusing to lease the modern Sports Arena to the Q's. Out of necessity, the Q's "cozy" arena was Peterson Gym on the campus of San Diego State. Peterson Gym only had a capacity of 3,200 and looked like a high school gymnasium. But at least the fans could get close to the action.
Where did K.C. Jones (middle) first coach a professional basketball team? In San Diego, with the 1972-73 expansion "Q's" of course. Everyone thought Jones would have a terrible team, but he made the best of his talent. Ollie Taylor (left) was drafted from the New York Nets in a special expansion draft, and had a nice season, averaging a career high 13.7 points per game. Stew Johnson (from the Carolina Cougars) and Chuck Williams (from the Denver Rockets) were also pleasant surprises, averaging 22.2 and 17.7 points per game, respectively. Mike Barrett (right) was drafted from the Virginia Squires, where he had missed all 84 games the previous season due to a broken wrist. He played 19 games for the Q's before permanently calling it quits. (ABA publicity photos courtesy of Jon Singer)
Before their second season, Leonard Bloom and his Q's captured the attention of the entire basketball world when they signed Los Angeles Lakers superstar Wilt Chamberlain to a $600,000 per year contract to play for (and coach) the team. An excited Bloom told San Diego fans: "Wilt's my player-coach, with the emphasis on player." The Q's immediately distributed media photos showing Wilt in a Q's uniform, holding an ABA ball (below).
But San Diego's hopes were dashed when the Lakers sued to prevent Wilt from playing for the Q's. A California court ruled that if Wilt played basketball during the 1973-74 season, it would have to be with the NBA Lakers. However, the court also ruled that while Wilt's contract with the Lakers was valid, it would not prevent him from coaching the San Diego franchise. As a result, Wilt was relegated to a mere gate attraction on the bench.
Sound Clip -- November 1973: Chamberlain discusses his relegation to the Q's bench, and gives his opinion about the ABA's three-point shot and red, white and blue basketball.

In the fall of 1973, pro basketball fans heard the news about Wilt's defection from the Lakers to the Q's, and wondered whether he would actually play in the ABA. Many writers felt that with Wilt in the middle, the Q's would contend for the Western Division title, and possibly the ABA championship.

In the first few weeks of the 1973-74 season, the courts made all of this speculation meaningless. Wilt was prevented from playing, and was only allowed to coach. At that time, Van Vance asked Wilt whether he was frustrated about having to remain on the bench in a relatively new role.

Streaming RealAudio File -- RealPlayer plug-in required (free download here)
(clip courtesy of Van Vance and used with permission)
Wilt's only role with the team was a coaching role (which included playing in team scrimmages). However, the rigors of coaching didn't really seem to suit him. Early during the season, Wilt missed a game at Indianapolis. The team said he was sick, but it eventually was revealed that Wilt was in Los Angeles attending an autograph session for his new book. During the last week of February, Chamberlain was absent from the team for a pair of games. Assistant coach Stan Albeck took over the team for both of those games -- which the Q's won. A reporter called both Leonard Bloom and the Q's office to find out where Wilt was for these games. But nobody connected with the San Diego franchise had any knowledge of Wilt's whereabouts.
Despite all of this, the Q's were a better team during the 1973-74 season. Fortunately for San Diego, when Chamberlain arrived, he brought along Caldwell Jones -- a skinny but talented 6'7" center. Fresh out of Albany State, Caldwell had failed to come to terms with the Philadelphia 76ers during the summer of 1973. It soon became obvious that Jones was a future All-Star center. Chamberlain also signed his former friends on the Lakers team, Travis "Machine Gun" Grant and Flynn Robinson. Rookie Dwight "Bo" Lamar made a big splash, averaging more than 20 points per game. On January 13, 1974 against the Pacers, Lamar scored a team-record 50 points. Finally, rookie Tim Bassett was also impressive.
Despite their youth, the Q's were occasionally able to beat the better ABA teams like Indiana, New York, and Carolina. On December 29, 1973, the Q's tailed the eventual champion Nets by 22 points at halftime, but came back to win the game. Eventually, the Q's barely beat out the established Denver Rockets for the final playoff spot in the Western Division (winning a one game playoff at Denver to win the spot), and actually pushed the Utah Stars to six games in the first round.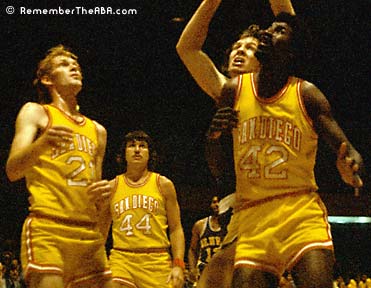 The 1973-74 Q's fought through the loss of Wilt Chamberlain the player and then the frequent absences of Wilt Chamberlain the coach. They battled from behind most of the season as the other Western Division teams (Indiana, Utah, Denver and San Antonio) got off to better starts. They finally tied Denver for 4th place and the last playoff spot, whipped Denver (at Denver) in a one-game playoff, and then carried eventual ABA finalist Utah to six tough first-round playoff games.
Without Chamberlain, the Q's still had an intriguing group of players, each with unique talents. Guard Billy Shepherd (above left and middle, #20) was known for one thing on the court: he was one of the most dangerous 3-point shooters in ABA history.
Stew Johnson (above right, #13) was the team's main scoring threat. He put up jumpers from every possible angle in his time with the Q's. He averaged 20.1 ppg in 1973-74, and even played in the 1974 ABA All-Star Game.
Center Caldwell Jones (right, #42) showed flashes of brilliance during his rookie season. His offensive game still needed work. But when healthy he was able to defense any ABA center. The Q's also had some longtime ABA veterans coming off the bench, such as center/forward Red Robbins (right, #21), and guard Larry Miller (right, #44).
Off the court, there was continual chaos. Bloom continued his feud with Peter Graham, and the Q's were forced to play in a small, confined downtown gym called Golden Hall. On November 7, 1973 owner Leonard Bloom's proposed 20,000 seat arena in a $200 million development in suburban Chula Vista failed by a mere 294 votes out of 19,000 cast in a special referendum. Chamberlain had refused to go into Chula Vista to campaign for the arena, saying: "If I have to go there, they can't want it very much." On November 10th, the league ordered Bloom to begin preliminary investigations into moving the team northward -- to Los Angeles. Much of the 1973-74 season was overshadowed by rumors regarding the team's possible move to Los Angeles. Veteran team publicist Ans Dilley resigned in mid-season, stating that: "When I try to make an appointment for someone to interview Wilt, he's always too busy. The guy is just impossible to work with." A month into the season, Dilley reminded Coach Chamberlain that the team picture hadn't been taken yet. When Wilt responded that it was too early, and that there would be significant changes on the roster, Dilley typed a letter of resignation.
San Diego's third season, without Wilt, was a case of good news and bad news. The team finally made peace with Peter Graham, and moved into the spacious Sports Arena. But the season was a last place disaster. The one bright spot was center Caldwell Jones, who continued to improve. After their third season, the Conquistadors were purchased by former Denver Nuggets owner Frank Goldberg, and became the San Diego Sails.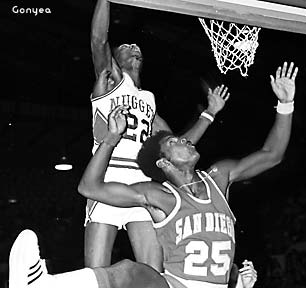 The 1974-75 Q's were a wild run and gun team with some interesting players. Point guard Jimmy O'Brien (above right, #14) averaged a career high 7.1 points that season. Of course, O'Brien is far more famous now than he ever was in the ABA. Until recently, O'Brien coached the Boston College Eagles, and he now coaches the Ohio State Buckeyes.
Dwight "Bo" Lamar (above left) was an uncanny outside shooter. Like O'Brien, he also had a career year in 1974-75, averaging 20.9 points per game.
Of course, the best player on the squad that year was second-year man Caldwell Jones (above middle #3, dunking over Mike Green of Denver). Jones had a great season and established himself as one of the premier defensive players in either league, averaging 3.2 blocks per game and 14.1 boards per game. He also was learning how to score, averaging a career-high 19.5 points per game.
Often lost in the hectic running style of the third-year Q's, man Tim Bassett (right, #25) provided some of his trademark hustle, offensive rebounding and overall defense.
In September 1974, San Diego Conquistadors players stood in a row until summoned, one by one, to dribble down the lane to their doom, to where Coach Wilt Chamberlain was waiting. With little apparent effort, Chamberlain rejected their pitifully human layups, fly-swatting them to various distant parts of the USD gym. Contempt was etched into Wilt's face. Wilt was letting them know who was boss. And then came Caldwell Jones. Find out what happened in Joe Hamelin's article "C.J. -- Man in the Middle."

Q's 1972-74
Road Uniform

Q's 1974-75
Home Uniform

Q's 1974-75
Road Uniform
---



CONQUISTADORS YEAR-TO-YEAR RESULTS
1972-73 Season
Record: 30-54, Fourth Place in Western Division
1973 Playoff Results:

Western Division Semifinals vs. Utah Stars (55-29)
Stars won series, 4-0
---

1973-74 Season
Record: 37-47, Fourth Place in Western Division
1974 Playoff Results:

One Game Playoff at Denver Rockets (37-47) for Fourth Place and Playoff Spot
Q's won 131-111

Western Division Semifinals vs. Utah Stars (51-33)
Stars won series, 4-2
---

1974-75 Season
Record: 31-53, Fifth Place in Western Division
Missed Playoffs
---

1975-76: Purchased by Frank Goldberg and became the San Diego Sails

Back to Main Page